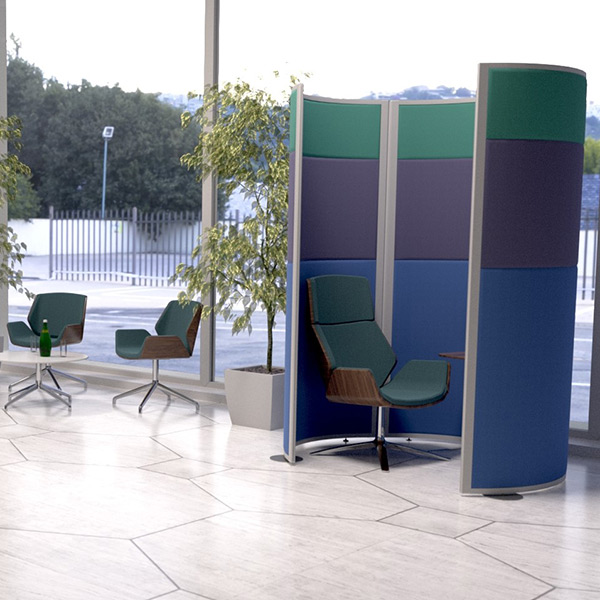 Concept Acoustic Partition Screens
Concept Acoustic Screens are ideal for creating a professional design and integrating privacy into open environments. Permanent divisions are often expensive, time-consuming and can lead to other issues. This is why Acoustic Partition Screens are a popular solution for creating privacy and preventing distractions in open environments. The Concept Acoustic Screens are designed to help employees and students to focus and concentrate on the task at hand.
As the Concept Partition Acoustic Screens are manufactured here at Rap Industries, this allows us to open the customisation options up to our clients. From the fabric colours right the way through to the size of the panels, there are various ways in which the Acoustic Screens can be customised in order to adapt to your open plan environment.
The Concept Acoustic Office Screens feature a unique design and opens up design options. Unlike the standard acoustic screen designs where you can choose 1 fabric, the Concept Acoustic Screens allows up to 3 fabric choices per screen. Use this feature to your advantage by combining multiple fabric colours and creating a quirky acoustic solution.
Acoustic Office Screens are used to help with noise and utilise the sound absorbing properties to create a peaceful working environment. The Concept Acoustic Screens include a layer of 12mm acoustic foam on both sides, which means noise can be absorbed from both sides of the office. With the addition of your chosen fabric the Concept Acoustic Screen will make a positive impact on workspace.

The Concept Acoustic Screens
The Concept Acoustic Screens are manufactured with a sturdy internal core which is designed to create screens which are lightweight and also stable when in use. We then add two thick layers of acoustic foam to either side of the office screen and these are designed to soak up some of the ambient office noise. Finally, the fabric is applied, and you can customise two or three of the sections with the fabric colour of your choice.
We design and then manufacture the Concept Acoustic Office Screens at our site in Peterborough, Cambridgeshire. From here, each product is made to order to guarantee they are suited to the environment of the client. This means all Concept Office Screens can be customised with a different height, width, fabric colour and framework colour available.
By clicking onto the individual item pages, you can find further information on the Concept Acoustic Office Screens and how they are made. We have provided a variety of guides which can take you through the options available and the delivery process. If you are unsure which screens would be right for you, then please get in touch with our team of advisors by calling 01733 394941 or send an e-mail to sales@rapind.com.
The Concept Acoustic Office Screen options
If choosing one fabric colour isn't possible for you, the Concept Acoustic Screens are the divider for you. Available as a 2 part and 3 part style, which essentially means each partition can be made with 2 or 3 panels. The Concept Acoustic Screens accept at least 2 fabric colours, giving you the opportunity to combine multiple fabrics for a fun, unique finish.
Acoustic sections aren't the only possibility on the 3 part Concept Acoustic Screens. Switch the middle acoustic fabric panel for an acrylic which can act as a window to let natural light and still has the element of keeping the office open and visible.
The aluminium powder coated frames can be chosen in accordance with your fabrics. The Concept Acoustic Screens have a choice of black, white or silver frames to compliment the overall look of your custom made office partition.
Having a range of heights is important for each Acoustic Office Screen Range, the Concept Acoustic Screens offer a higher measurement of 2.3m. For those high ceilings and where height restrictions aren't an issue, the Concept Acoustic Screens will be the perfect fit.
In addition to the mix of woven fabrics and impressive heights the Concept Acoustic Screens provide Acoustic Office Pods and Curved Acoustic Partitions. The standard straight and acoustic curved office screens can be joined and are compatible with each other.
Using the Concept Acoustic Screens
Assembly for the Concept Acoustic Screen is kept to a minimum. Each Acoustic Screen is supplied with a set of stability feet, which are inserted into designated channels at the bottom of the screen. The stability feet are supplied to match the chosen frame colour for your custom acoustic office partition.
The stability feet have a raised profile which makes the feet trip and wheelchair friendly and allows the acoustic office screens to be placed in any option space, without causing a hazard.
Linking strips are also supplied with each Concept Acoustic Office Screens. Linking strips are intended when a run or configuration of partitions are to be joined. A flexible design ensures a 90 degree angle can be created and full flexibility is given when designing a bespoke Acoustic Screens design.