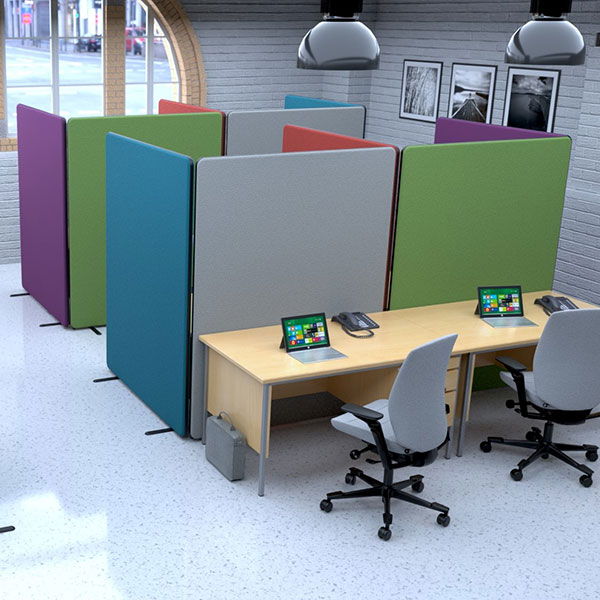 Nova Acoustic Office Partition Screens
The Nova acoustic partition screens offer a standard and deluxe range, providing a fantastic selection of screen options, size and fabric choice. The Nova screen shows a curved edge to create a soft feel to the screen and uses a durable edging to complete the screen design.
Our Nova deluxe screens are unique to the range due to the fabric used. The deluxe screen is made with a double layer of 12mm foam on both sides of the screen and upholstered with an acoustic fabric which has been made with 100% wool. We have created the ultimate acoustic office screen.
Each product is made to order, which means you can adapt and change the screen making it suitable for your office space. With a wide range of sizes and fabric colours, there's an option for all environments and work spaces.



With the Nova Acoustic Office Screens we've created a soft, luxurious screens without losing any of the sound aborbing properties that are vital in any office environment. Within the Nova range there are two options; the standard Nova Acoustic Screen or the Deluxe version. Having the upgraded option allows us to offer 2 different fabric collections and a total of 51 different colourways, so that you can find the perfect finish to match your company colours or existing colour pallete. The fabric collections are either 100% recycled polyester (X2) or 100% Wool (Blazer Lite) meaning that the screen you receive has been manufactured using the best possible materials, in-house by us.
The Nova Acoustic Screen is manufactured with 2 layers of 12mm acoustic foam on both sides of the screen, giving you a total of a 24mm acoustic layer on either side which is then covered in your chosen fabric colour for the collections. A slim T edging is then applied all around the edge of the screen to give a neat, sleek finish. As the Nova Acoustic Screen is non-linking, the edge is finished without the linking channel meaning a cleaner finish for the stand-alone screen which is easier to move and reconfigure as your office changes.


Installation
We offer a full installation service wherever you are for an additional cost, speak to one of our installation team today for a dedicated price on 01733 394941.

Warranty
All our Nova Screens are supplied with a 5 year manufacturer's guarantee as standard.