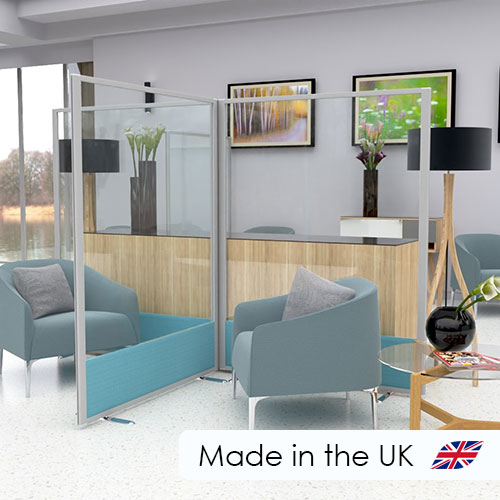 Glazed Office Screens
Glazed office screens are a stylish and practical divider which is ideal for use in open plan indoor environments. These screens are unique in the sense that each panel features a glazed panel which allows natural light to flow through. Open plan offices and classrooms can be fantastic, but the prospect for distractions can lead to efficiency dipping. Glazed screens can help in situations such as these as they introduce a sense of privacy while retaining the open plan design.
Our glazed office screens are available in a number of different styles, so your environment can be tailored to provide various degrees of privacy. Full vision screens allow plenty of light through but do very little to prevent visual distractions. Alternatively, there are the vision tops screens which provide some natural light to flow through while creating plenty of privacy in the open environment.
We design and then manufacture the glazed office partitions here at Rap Industries. Based in Peterborough, Cambridgeshire, we have worked with a variety of different open plan environments for clients in order to make them more inviting and more pleasant to work in. As is standard with all of the products that we produce, there is a manufacturer's guarantee included.


Glazed Screens from Rap Industries
Our glazed office screens are manufactured with a strong internal core which we produce using high quality materials. With all of the screens we create, the goal is to create product which is strong and sturdy, but also enhances the aesthetic of the overall environment. The vision panels are created using a clear or frosted acrylic which allows natural light to flow through the space.
All the glazed screens that we produce are designed and then manufactured here at our site in Peterborough, Cambridgeshire. This ensures that we produce a high quality product every time as we perform thorough checks throughout the manufacturing process to guarantee that every glazed office screen is manufactured to the quality that we expect.
Many of our glazed partition screens can be customised in a variety of ways so that you can make the most of your open office space. Each individual item page provides a wealth of additional information regarding the screens and how they are composed. If you are looking to re-design your space and require further guidance, then you get in touch with our team of advisors on 01733 394941 or send an e-mail to [email protected].