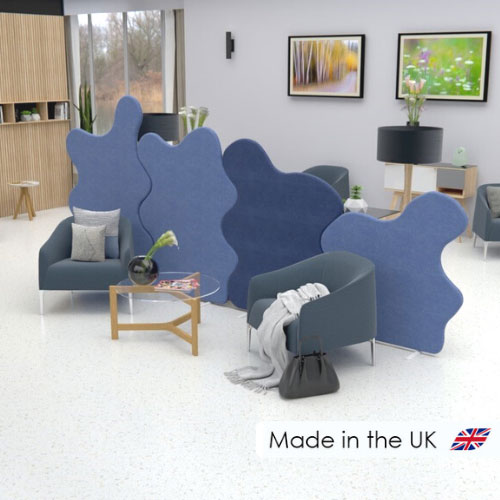 Waiting Room & Reception Screens
Making the right first impression starts at the door, so when you enter a waiting area or reception space, the type of design and choice of soft furnishings matter. Fair amounts of time can be spent in those areas, so the need for a welcoming, comfortable and well designed room is non-negotiable.
Partition Screens are a versatile product and can be utilised in almost any space, receptions are no exception. Among the wide range of available office screens and room dividers, the waiting room and reception screens answer to all industries and we're sure you'll be able to find the perfect fit.
Position our acoustic partition screens between chairs and sofa areas to create a reception area that gives the appearance of multiple room, provides more privacy than a completely open waiting room and removes excess noise. The customisable aspect of the screens ensure your chosen office screen can be manufactured to the specified size and colour to compliment the surroundings.
It's possible that medical and healthcare waiting & reception environments will require a solid surface, rather than acoustic finishes. Discover the white gloss laminate and acrylic easy clean dividers that divide, protect and can be safely disinfected. Select screening to divide patient seating areas or as a protective screen for NHS reception staff.
Portable, freestanding and desktop dividers transform an open plan waiting room into a partitioned area tailored to the needs of the customer, client or patient.

Waiting Room & Reception Screens
Waiting areas and receptions need to be comfortable, practical and suit the overall design of the office or building. Partitions are a popular way to enhance the design, and with the assistance of acoustic, soft touch and glazed partition screens you're able to create the ideal aesthetic for your space.
Receptions and waiting rooms are the first step into a business space and should be designed with care. You'll need to consider what the space needs; is it too loud? Does the space lack colour? Will you require a modern look or more traditional? Once you have pinpointed the purpose of the screens, it's possible to select the right styles and bring your vision to life.
For those loud, hustle and bustle receptions that see people coming and going throughout the day, Acoustic Office Partitions can take control of the noise levels and ensure the noise isn't overpowering. Inside the acoustic partition screens, acoustic foam effective absorbs excess noise and works with the sound waves caused by conversations and sounds to create a comfortable seating space.
For the continued flow of natural light and keeping the reception area divided but still open, glazed and acrylic office dividers would be a suitable choice. Clear and frosted acrylic panels offer a window like aspect to a freestanding or desktop dividing screen, that tackles more than one issue at a time. For a personal touch, add printed branding to the centre of the acrylic panel section.
Medical and healthcare environments require different types of partition screen as the main area of concern is hygiene and limiting the spread of germs. Laminate and anti-bacterial fabrics provide the right type of surfaces that are easily cleaned and sanitised. Treated anti-bacterial fabric is the optimal way to reduce germs and bacteria as the sanitised technology prevents the growth, as well as being resistant to blood and urine.