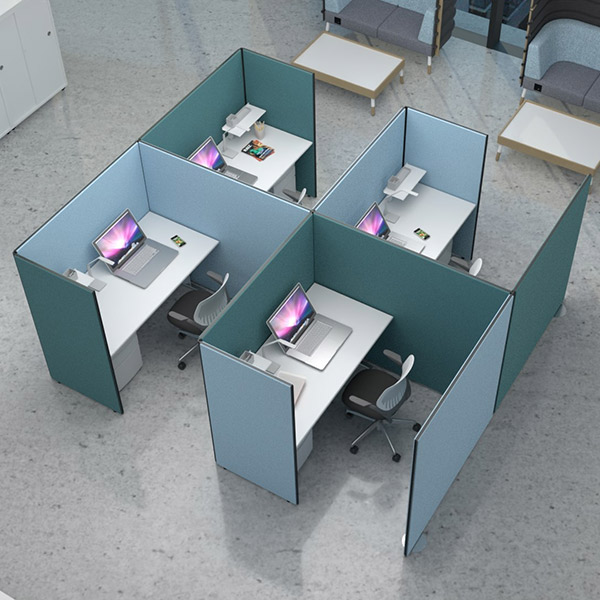 Budget Acoustic Office Partitions
Budget Acoustic Office Partitions are an excellent solution for anyone looking to divide their office space or absorb some office noise on a budget. This is why the Budget Acoustic screens are such a popular choice for our customers - you can create privacy in open environments with a stylish, effective solution without the heavy price tag. We're so confident that you'll love the Budget Acoustic Screens that we've included a 5-year manufacturer's guarantee with every screen.
At Rap, we've designed the Budget Acoustic Screens to give our customers a wide choice of acoustic screening options so there is something to suit everyone. We manufacture all the screens on site here at Rap Industries and this allows us to customise with different fabric colourways, feet options and finishes. We can even bespoke the sizing if you require something very specific or exact to fit your space. Contact us on 01733 394941 or email at [email protected] with your requirement and we'll be happy to help.



When it comes to acoustic office screens, we've worked to design a selection varying in price to ensure there is an option for every requirement and budget. That's where the Budget Acoustic Office Screen comes in, offering an affordable but effective sound absorping partition. During the manufacturing process we apply 12mm acoustic foam onto either side of the 18mm solid screen core, and cover with your choice of 25 woven fabric colours.
The PVC edging on all edges of the screen gives it high durability and robustness, as well as providing linking facility, making it easy to attach other screens and create clusters or runs of partitioning. The slimline edging also creates a softer look.
A choice of styles are available with the Budget Acoustic Office Screen including straight, curved, wave and portable (supplied with castor feet). We have also included within the range a variety of acoustic pods from 1, 3 and 4 person booths available.


Installation
We offer a full installation service wherever you are for an additional cost, speak to one of our installation team today for a dedicated price on 01733 394941.
Warranty
All our Budget Acoustic Screens are supplied with a 5 year manufacturer's guarantee as standard.