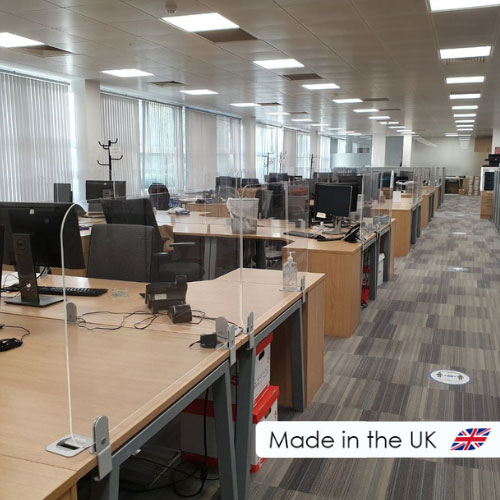 Medical Desk Partition Screens
Medical Screens aren't just for the hospital wards or patient rooms, medical screens can be used within a healthcare office to provide an extra level of protection. Cleaning and sanitizing acoustic screens isn't easy so providing easy clean, solid surfaces are the ideal addition.
Medical Desk Partition Screens can be found in the form of acrylic, laminate and anti-bacterial styles. The use of each material ensures the desk areas can be cleaned and the chance of spreading germs is minimized.
Desktop Partitions effectively divide working areas, creating a more personal workspace. Whether you're using drill through clamps, easy fix clamps or desktop feet, each medical desk partition can be installed quickly.
Each desktop screen finish has it's own benefits and are tailored for different offices. Acrylic screens divide a space, but allow natural light. Laminate is easy clean, bright and doubles as a white board. Anti-bacterial dividers trust the treat fabric to stop the growth of bacteria. What they have in common is the ability to reduce the spread of germs and simple ability to clean.

Medical Desk Partition Screens
Being safe in a medical environment extends to the office space too! So, at Rap Industries, we've created easy clean, anti-bacterial options to fix to the desks and provide the support needed in a bacteria conscious work space
Medical desktop dividers are available in the form of acrylic, laminate and a treated anti-bacterial fabric. Incorporating desktop dividers can be useful when wanting to split workspaces, add privacy and also strengthen your office design. Welcome pops of colour, modern edges and functional screening to transform your current workspace.
What makes a desktop divider suitable for a medical space?
It's down to the materials used and the ability to sanitise.Acrylic and laminate are the perfect finishes for anti-bacterial sprays and can be wiped clean with ease. Making the cleaning process a quick and easy part of the daily routine. Whereas the anti-bacterial is already treated, meaning it'll fight bacteria and germs all on its own.