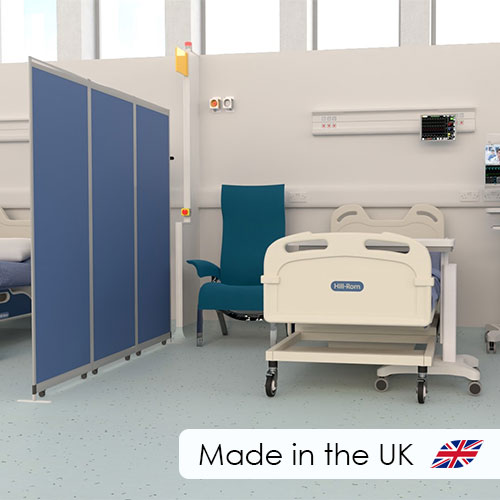 Social Distancing Portable Screens
Portable Room Dividers are a versatile and helpful solution to have available within the workplace. Our screens have a concertina design, allowing the screen to be folded and stored, all whilst using minimal space to do so. Integrating a portable screen with built in castor feet can be useful when your screen is intended for multiple uses and is required in different rooms and locations.
Social distancing is a large part of the future and no matter the industry, 2m spacing is required. All of the portable dividers Rap Industries have designed are suitable as a social distancing measure due to the style and finishes available. The Mobi and Flexi-Screen ranges offer printed, laminate and anti-bacterial finishes which have proven ideal when it comes to daily cleaning and sanitisation. Furthermore, the panels will effectively divide open spaces, create individual workstations to provide a safe, well organised socially distanced workplace.
Our products are designed with you in mind, so we are confident the Portable Room Dividers ranges will excel in all workplaces and environments. Ideal for clinics, schools, offices, training rooms and many more. Speak with a member of our team to discuss your COVID-19 requirement, call us on 01733 394941.
Know more about the Social Distancing Portable Screens
Concertina screens are a popular choice for offices, training rooms, schools and multiple medical environments – however, the list doesn't end there. A portable room divider is easy to use, as the design allows the screens to be folded and stored when needed. The laminate and anti-bacterial finishes can be wiped clean and sanitised to reduce the spread of germs.
As we continue to social distance and return to the workplace, incorporating portable rooms dividers and concertina screening, will enable you to effectively divide areas, adhering to the 2m distancing requirement. Our portable screens are available in various widths and heights, so it's possible to find the right size and fit for your room, creating personal spaces.
About the available screen finishes
Use the laminate and anti-bacterial portable dividers to divide large open spaces, to create personal booths or as a social distancing measure between the desks. The REACH compliant laminate has a white gloss finish which accepts white board pens for making important notes. Another option, is the treated anti-bacterial fabric which prevents the growth of bacteria and comes in a selection of fun, bold colours to brighten any room.
Each of our social distancing Room Dividers are made using high quality materials in the UK, providing continued supported throughout COVID-19.
What are the benefits of Portable Room Dividers?
Suitable for social distancing
Reach laminate, dry wipe finish
Treated anti-bacterial fabric finish
Concertina design
Easy clean finishes
Designed to move & store