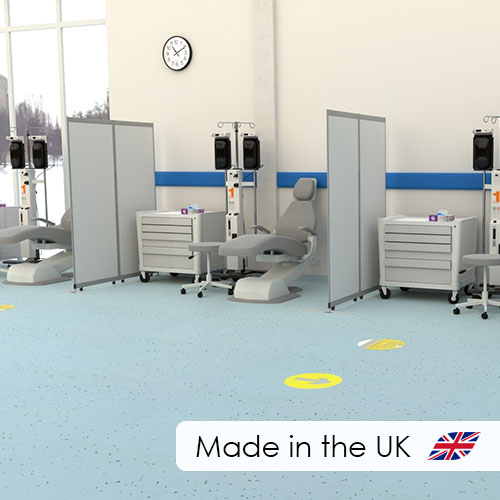 Medical Screens
Medical screens combine a practical partition screen design with an anti-bacterial fabric which helps to protect the environment from harmful bacteria. This technology is also integrated into the framework and it is designed to stop the spread of bacteria. The medical privacy screens are available in a variety of different designs including as mobile medical screens, enabling the environment to adapt and change depending on your requirements.
Each medical screen is bespoke manufactured, which means it will be unique to your environment. The customisation options include the panel size, anti-bacterial fabric colour as well as a host of accessories which can help to ensure they excel in your environment. We design each component of the medical privacy screens to ensure they are incredibly easy to use and the simple set-up design ensures they can be deployed quickly and effortlessly.


Medical Screens from Rap Industries
The specific purpose of medical screens is to create privacy in environments which are vulnerable to the spread of harmful bacteria. Our anti-bacterial fabric can be upholstered with office screens, desktop screens as well as room dividers, so there are a number of ways in which your open environment can be customised to protect against the spread of illnesses and infection.
To ensure the medical privacy screens will be as effective as possible in your environment, we have had the fabric and framework tested to ensure they are REACH compliant and are able to prevent the spread of up to 99.9% of bacteria. This is achieved by integrating silver ions into each component during the manufacturing process. Silver is unique in the sense that it can break up the bonds which hold together bacteria and as a result, can stop the spread of it at the source.
As manufacturers of the medical screens, we can create screens which are tailored to adapt to your environment. Amongst the individual options which you will find on the relevant item pages, you can also get in touch if you have a unique idea in mind. Simply give our team of advisors a call on 01733 394941 or send an e-mail to [email protected] and they will be able to help with your query.