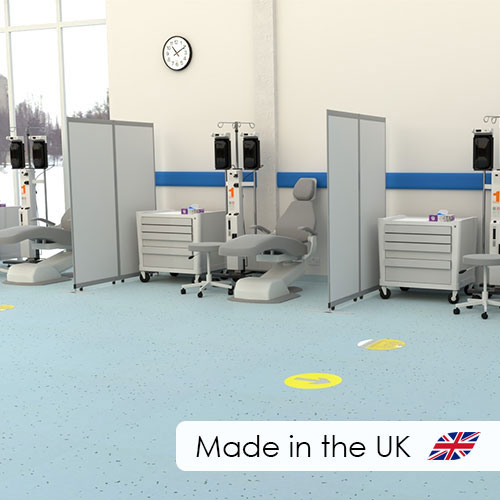 Medical Screens
Medical Screens combine a practical partition screen design with an easy clean or anti-bacterial finish. Any screening added into a hospital or healthcare environment should be easy to clear and sterilise to eliminate any harmful bacteria. Our medical privacy partition screens are available in a variety of different designs including mobile medical screens, enabling the environment to adapt and change depending on your requirements.
Finishes for the healthcare environment include white gloss laminate, anti-bacterial fabric and acrylic. Each material and partition style brings a different benefit and all elements can be used in a reception, ward or treatment room.
White gloss laminate is an easy clean material, which can be sanitized with anti-bacterial sprays, but also converts into a white board, as the laminate accepts dry wipe pens. For a bright and bold approach to germ control, the anti-bacterial fabric is treated with a sanitised technology and fights back against bacteria without the use of sprays and cleaning solutions.
Each Medical Partition Screen will be bespoke manufactured, which means it will be unique to your environment. The customisation options include the panel size, fabric colour as well as a host of accessories which can help to ensure they excel in your environment. We design each component of the Medical Privacy Partition Screens to ensure they are incredibly easy to use and the simple set-up design ensures they can be deployed quickly and effortlessly.

Find out more about the Medical & Hospital Screens, made by Rap Industries
The specific purpose of medical screens is to create privacy in environments which are vulnerable to the spread of harmful bacteria. Our anti-bacterial fabric can be upholstered with office screens, desktop screens as well as room dividers, so there are a number of ways in which your open environment can be customised to protect against the spread of illnesses and infection.
To ensure the medical privacy screens will be as effective as possible in your environment, we have had the fabric and framework tested to ensure they are REACH compliant and are able to prevent the spread of up to 99.9% of bacteria. This is achieved by integrating silver ions into each component during the manufacturing process. Silver is unique in the sense that it can break up the bonds which hold together bacteria and as a result, can stop the spread of it at the source.
As manufacturers of the medical screens, we can create screens which are tailored to adapt to your environment. Amongst the individual options which you will find on the relevant item pages, you can also get in touch if you have a unique idea in mind. Simply give our team of advisors a call on 01733 394941 or send an e-mail to sales@rapind.com and they will be able to help with your query.
What types of medical partition screens are available?
In an environment where emergencies are part of the daily routine, portable medical partition screens are a useful tool to have available. The Portable Medical Room Dividers can be moved and arranged how you need them in a quick, simple action. Castors wheels ensure the partition screens move smoothly around a hospital and can be used when a situation arises.
Whether privacy is needed, additional patient space or vaccine centres are being assembled, the Portable Medical Screen is more than proficient.
Away from the wards and into the medial office space, the medical Desktop Dividers can separate desks and create a pleasant working environment. Even though patients won't be in the office space, germs and bacteria can follow in to this space, so the easy clean and anti-bacterial desktop dividers have an important job.
As with most of the favoured medial room dividers, they include an easy clean, wipeable surface. Laminates, acrylic and treated fabric are amongst the popular choices and offer an appropriate solution for an environment that's sterile.
Use bleach and chlorine based cleaning products on the REACH compliant white gloss laminate or take advantage of the treated anti-bacterial material which does the hard work at stunting the growth and spread of bacteria.
For a more permanent solution in a medical environment, the Freestanding Partition Screens make lightwork of dividing and separating open plan spaces, patient beds and waiting areas. Provided with stability which are trip and wheelchair friendly, the Freestanding Medical Partition Screens can be positioned safely throughout the hospital.