Office Pods and Meeting Rooms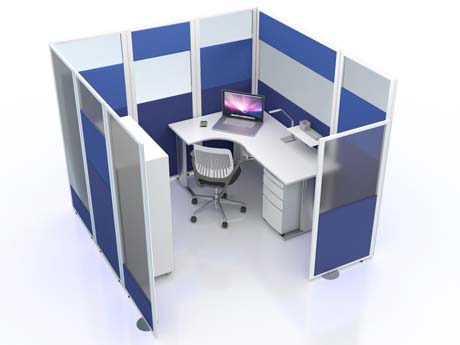 At Rap Industries we've manufactured a selection of office pods and meeting rooms from our wide range of screening to offer you a solution that's effective, stylish and suitable for all budgets. Within our range we've catered for all requirements; from Acoustic Privacy Pods with lockable doors to Individual Work Booths. Having an open plan office has become more popular upmost business, both big and small. That's why we've created a diverse range of pods in different finishes so there's something for everyone.
Not only do our Office Pods looks good, but they do good too. In many of our Office Pods and Meeting Rooms we use acoustically tested foam, in variations of 12mm and 24mm, to give you a solution that's proven to work in absorbing some of the noise in your office environment, which allows you to work more effectively and without distraction. Whether you need to hold a private meeting or simply block out some of the everyday office noise, there's an Office Pod available for you that's easy on the eye and your wallet.
We manufacture our range of Office Pods and Meeting Rooms here at Rap Industries, which not only means that we can keep the price down but also there's endless possibilities to the customisation on each pod. From a variety of fabric colourways, clear or frosted acrylic finishes, trim colours, feet options and customing printing, you can design your Office Pod to look exactly as you require. Looking for something bespoke? Give us a call on 01733 39494.