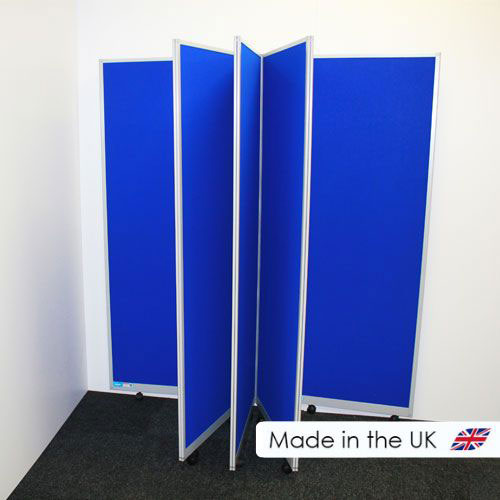 Folding Room Dividers
Our range of flexible, folding room dividers can be quickly deployed to create a training area, conference room or to divide a large open space into a number of smaller spaces. A concertina design enables the panels to be folded together, therefore creating a smaller system that can be put to one side or stored when not in use. The Concertina feature is great if your short on space or won't require the divider as a permanent addition.
To compliment the folding mechanism, castors wheels have been added to the base of each panel for full portability. Pairing easy to move panels with the folding design creates a multi-use room divider that can be used in different areas and withstands adjustments as and when needed.
Room dividing solutions are available from the Mobi & Flexi-Screen range, covering different widths and heights, being tailored for any industry or department. Lightweight panels and a range of fantastic finishes, you'll be able to find the right size and style for your space. Discover the loop nylon, fabric, easy clean, printed and anti-bacterial finishes to customize your display accordingly Each of the finishes can thrive in different spaces and should be utilised in a way that benefits your business and requirement.
Discover more from the Folding Room Divider range and choose your made to order dividing solution today!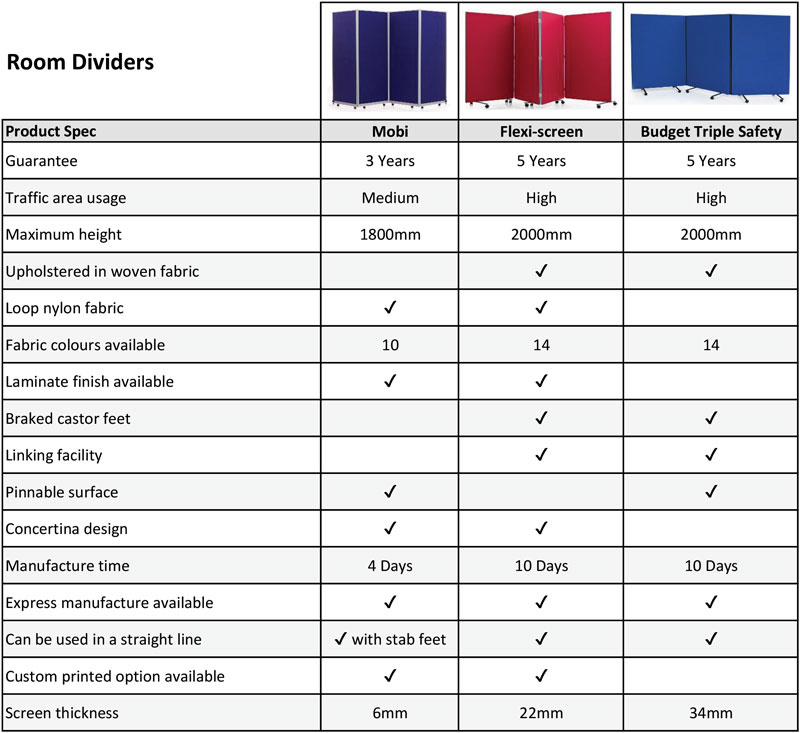 Our Range of Folding Room Dividers
Folding room dividers are designed to be sturdy partitions in open environments while still being quick to roll out and we have tailored them to accommodate both factors. Introducing an intuitive core allows the overall weight of the system to be drastically cut. When pressed under immense pressure, this makes the panel extremely sturdy, thereby creating room dividers which deliver on everything they promise.
All the portable partitions that we produce are made to order, which means that each can be made bespoke to your environment and your requirements. From the number of panels through to the colour of the dividers, we offer a wide number of ways in which the room divider screens can be customised. As is standard with all of the products that we create, there is a manufacturer's guarantee included.
You can find out more information about the Flexi and Mobi screens on their respective item pages, where there are further details on their specifications and customisation options. If you have a space which you need to divide, but are unsure of which would be best, then please get in touch with our team of advisors who can provide additional support. You can reach them by calling 01733 394941 or by sending an e-mail to sales@rapind.com.