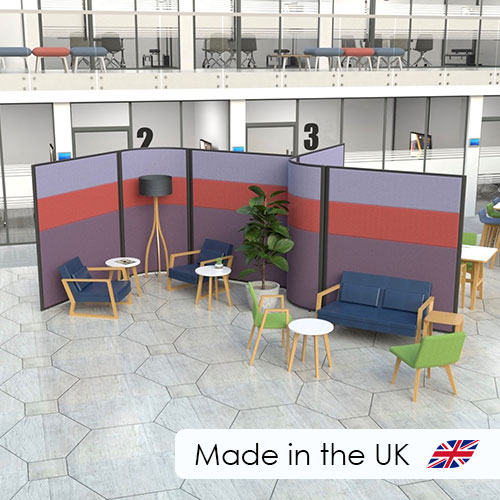 Acoustic Office Screens
At Rap Industries we design and manufacture all our Acoustic Office Partitions to provide you with a high quality, acoustically tested solution. Using double layers of 12mm and 24mm acoustic foam to manufacture our Acoustic Office Screens, we're dedicated to supplying our clients with an acoustic solution for any environment that will assist with sound reduction.
Available in a choice of styles, from Freestanding Acoustic Office Screens to Desktop Dividers, portable to wall mounted, there is an acoustic solution for every requirement. We offer a variety of fabrics and finishes, with custom print also available so your Acoustic Office Screens can be personalised with your branding. There's also options to add in acrylic sections, choose different shapes and sizes to best suit your need.
Acoustic Office Partitions are a popular addition to large and small office spaces, to reduce noise levels and daily distractions. Acoustic foam makes the noise absorption possible, therefore creating a quieter work environment. Acoustic Office Screens transform the open plan office into a partitioned space and create rooms filled with privacy, individual working spaces and Acoustic Office Pods.
Choose the right shape, style, and fabric colour to create a custom Acoustic Office Partitions that discreetly fits into the surrounding space. With the semi-permanent design the ability to reconfigure and restructure the office is easier than ever.
Have an idea in mind but don't see it here? ? As well as Acoustic Office Partitions, we specialise in bespoke design for products so give us a call on 01733 394941 or email sales@rapind.com and we'll be happy to help.
Acoustic Office Screens from Rap Industries
From Acoustic Office Partitions to Acoustic Desktop Dividers, we manufacture a number of unique products which are designed to enhance your office. Each range of Acoustic Office Screens has a selection of different styles on offer, which ensures they are able to adapt to the space and make it as effective as possible. These are also customisable with a variety of options on offer such as; fabric colour, framework colour and style of the stabilising feet.
We manufacture all of our Acoustic Office Partitions to order which means that each is tailored to suit the requirements of the space itself. Whether you have a unique layout to work around or require more natural light to flow through, we are able to help with a variety of different designs on offer. As is standard with all of the products that we produce, there is a manufacturer's guarantee included.
Re-designing the office can be a stressful affair and we understand the need to get the most from your budget. You can find a wealth of resources on each individual item page which explains about what each product consists of and how it can help. If you require further assistance with your Acoustic Office Screens requirement, then you can get in touch with our team of advisors who would be more than happy to help. To contact them, please call 01733 394941 or send an e-mail to sales@rapind.com.
Delta Acoustic Office Partitions
The Delta Acoustic Office Screens range is full of fun and vibrancy. The Office Partitions are like no other with the fun shapes and bold fabrics. The Cloud shape is one of a kind and can set your office space above the rest. The straight, curved, wave and cloud Office Partitions use double layered acoustic foam for maximum noise absorption. Resulting in a professional partitioned office, with a display of personalities.
Morton & Concept Acoustic Office Screens
The framed Acoustic Office Partitions from the Morton & Concept Office Screens range display a different design to the other Office Partitions on the market. With the combination of acrylic, acoustic and enabling more than 1 fabric colour per divider, it's safe to say the Morton & Concept Office Screens bring a unique take on the standard office screen.
With choices on size, fabric and frame colour, the design process is left in your hands so the perfect Acoustic Office Screens can be created for the available space.
Budget Acoustic Office Partitions
A high quality, cost effective Office Partitions to meet all requirements. Find the width and height of your choice and use the linking facility to maximise the Budget Acoustic Office Screens potential.
The linking facility located on the side of the Office Partitions allow you to connect numerous dividers together. Creating a straight wall, L shape privacy areas and the full Acoustic Meeting Pods.
Desktop Dividers
In contrast with the Freestanding Office Partitions, Acoustic Desktop Dividers require zero floor space and create a concentrated noise barrier around the desktop.
Fitted with easy fix desktop clamps, all Acoustic Desktop Office Partitions are easy to fit and will provide instant acoustic properties within the designated area. Designed to be used on the back and sides of the desk for a single panel Office Partitions or as fully surrounded desk for less distractions.