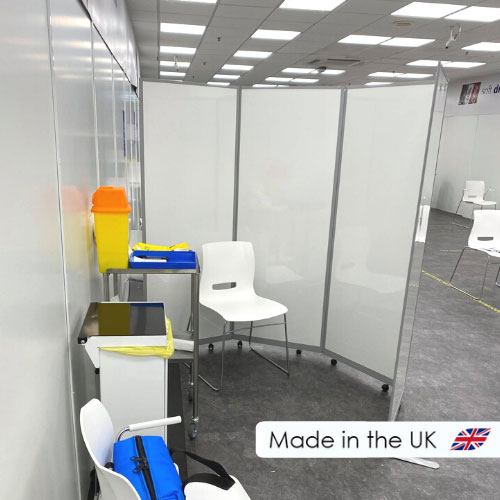 Wipeable Room Dividers
The main appeal of a medical divider is the ability to wipe clean and create a sanitized area. We have a large range of wipeable screening, with different designs, sizes and materials to suit the environment and available space.
A wipeable screen in a clinical environment is a must, as the surface can be cleaned between patients, limiting the possibility of spreading germs and bacteria. Our laminate provides a dual purpose screen, not only can the panels be efficiently clean but the laminate accepts dry wipe pens too.
Acrylic and anti-bacterial fabrics are used to bring a modern twist to Medical Partition Screen design. Both of which can be wiped clean. The anti-bacterial is pretreated, meaning the growth of bacteria and germs is stopped and all that's needed is a wipe with soap water.
Freestanding, portable, acrylic, laminate or anti-bacterial partitions are part of the wipeable collection. Showcasing clear, clinical and fun colour options!
Wipeable Room Dividers
Wipeable and easy clean screening is the perfect type of screening to be inserted in to medical or clinical environment. Regardless of the screen design, the finish of the screen is far more important and should be easy to clean and sanitise to provide a working zone as sterile as possible.
The ability to pass and transfer germs in a medical setting such as a hospital is something the staff work hard to eliminate. Areas are cleaned regularly, disinfected using chemicals and the upkeep of wards and patient rooms are looked after. A medical environment needs a partition solution to work alongside the day to day running of a space where germs matter
Each of the Wipeable Room Dividers are made by Rap Industries in the UK. We want to support all medical spaces as they continue to support patients.