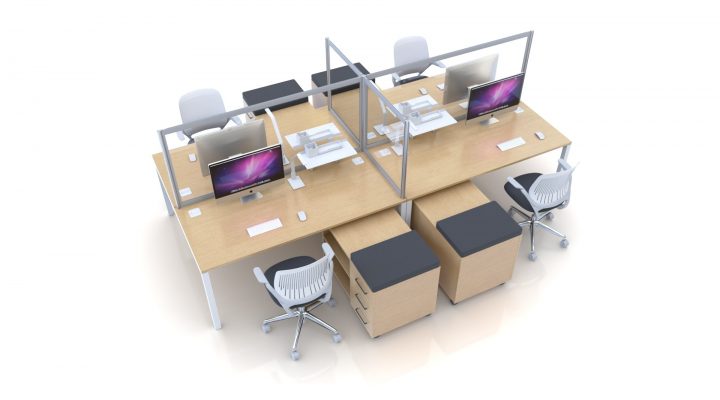 COVID 19 has taken us all by surprise as we continue to settle into the new 'norm' and get to grips with regulations and new ways of working. We've been gone a while on the blog front, but we're back with updates, new products, and everything Social Distancing.
Social Distancing has probably become the phrase of the year to make sure we keep at least 2 metres away from others. By doing so, the aim is to reduce and slow the spread of Coronavirus so we can slowly re-introduce the pleasures of life.
At this time, all we can do is work together, support businesses and keep in line with the government rules. As a UK manufacturer and NHS supplier, we already had many screening solutions available to help with social distancing. However, we wanted to offer a wider selection of screens to all sectors and this is how our new Social Distancing Ranges came into existence.
Easy clean and acrylic finishes was the first stop. As the ability to sanitise workstations and office spaces is key. Not only ideal for cleaning but offering a fresh finish and a modern design that can be used well past the days of Coronavirus.
Within the range we have created freestanding and desktop divider, but what is the difference between these screens?
The freestanding style is a full-length divider, which stands with bases or stability feet. Ideally used to divide large open spaces or to create booths and meeting areas.
The Desktop Divider is a smaller option which attaches to or sits on top of the desk. Allowing you to divide the desk into personal workspaces.
Not to mention using the styles together in any working environment to add as much protection as possible. Being able to provide your colleagues with a safe and secure working zone is at the forefront of all our minds, and with the Social Distancing Range it's easy to achieve.
We'll be introducing you to our new screen across the next few weeks, so let's get started with the Modular Protection Panels.
As one of the first COVID designs we released, it's fair to say it's been a popular choice. The Modular Protection Panels use a unique panel and pole system which is specific to us at Rap Industries.
Modular Protection Screens
A freestanding design, which uses a framed clear or frosted acrylic/Perspex panel, silver poles and circular bases. The panel attaches to the pole and can be positioned landscape or portrait. A massive USP is the modular feature. Each panel can be linked to the next, enabling you to create a width and configuration for your space.
Create a bespoke social distancing solution, with the made to order modular panels.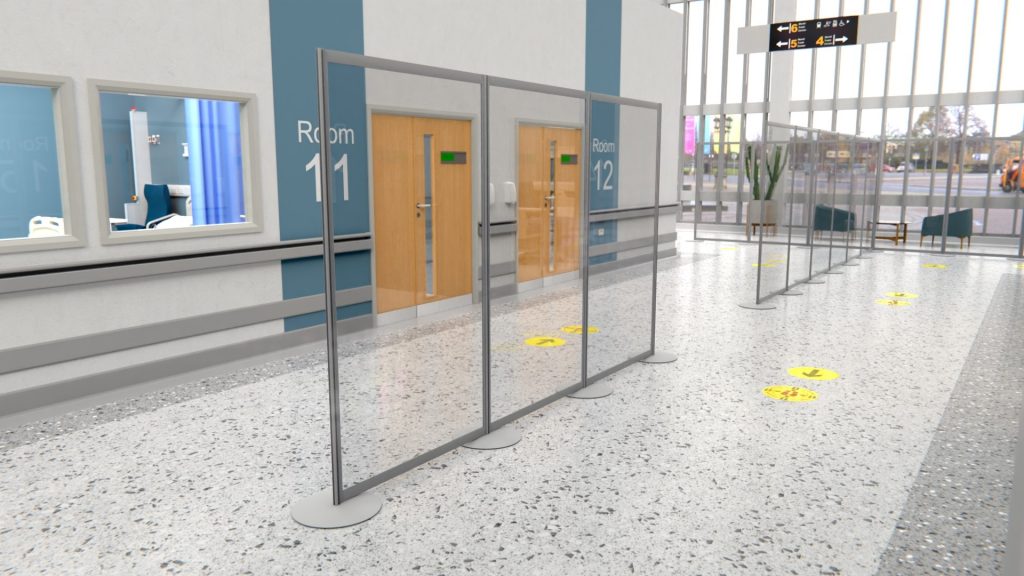 Next, we move on to the Desktop Sneeze Screens
Desktop Sneeze Screen
The Sneeze Screen is a desktop take on the Modular Protection Screen. With the same frame and acrylic options, the Sneeze version can be attached to the desktop with a drill through fixings.
We understand that drill through fixings aren't for everyone, but with this addition we have been able to extend the heights options. Added screen stability has enabled us to create a divider that adds maximum protection when working at a desk or counter all day.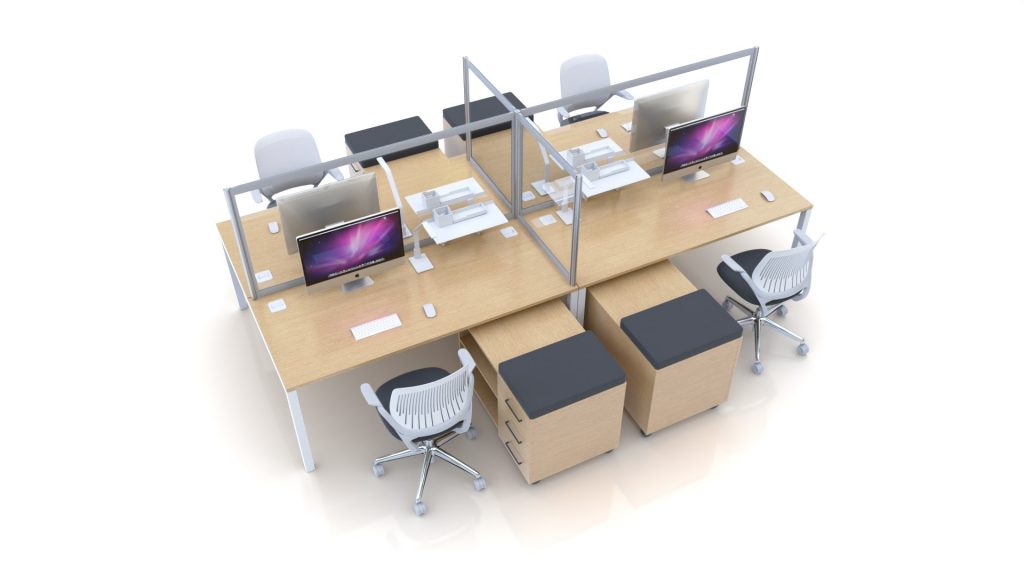 Now let's talk about acrylic…
As briefly mentioned, acrylic was a top contender when it came to launching the new screens. Clear and frosted acrylic (also known as Perspex) bring different benefits to the table.
Clear acrylic is suitable when the area needs to be protected but full visibility is required. With the transparent finish you'll be able to view and monitor different working areas with ease.
Frosted Perspex adds more privacy, with a frosted almost opaque finish. Providing the protection you need but also supplying privacy to those departments who require it.
No matter the finish of the acrylic, both are suitable for the social distancing screens and most importantly are easy to clean throughout that day.
View all our Social Distancing Screens
More Coronavirus updates and information can be found Here