Let's talk office partitions!
Freestanding, portable, acoustic, dry wipe, printed – and that's just to name a few. Open plan offices and floor spaces were a thing, but it seems we're coming back around to sectioned offices and privacy compartments.
Each company or office will have their own idea of what works and what doesn't, some love open plan and some love a good office partition. Both are available to you, adding partitions to an office, doesn't mean you have to close everything off and shut yourself away. With a range of different solutions, a lot can be achieved, let us show you how…
Acoustic Screens
Perfect for a loud office and helps reduce the hustle and bustle of a busy environment. These screens have a foam interior to absorb the unwanted to noise to keep productivity high and distractions at a minimum. Not only helping with the noise but providing each department with a little more privacy, to get heads down and stuck in to their work load.
Pinnable Screens
Resembling the same exterior as a general partition, and still looking great in the office with your chosen fabric. The core has been created to accept pins, so you can go ahead and attach your information, photos and office notices. The finished product is a 2 in 1, a partition and notice board. Afterall, we all love a dual-purpose product!
Printed Partitions
This is where the fun begins. A printed screen is basically a blank canvas and can be designed with anything and everything you desire. Add a splash of bold colour and interesting artwork to flow through the office and bring the personalities alive. Any artwork added is completely custom, you can add any colour, logo or image to create a unique partition.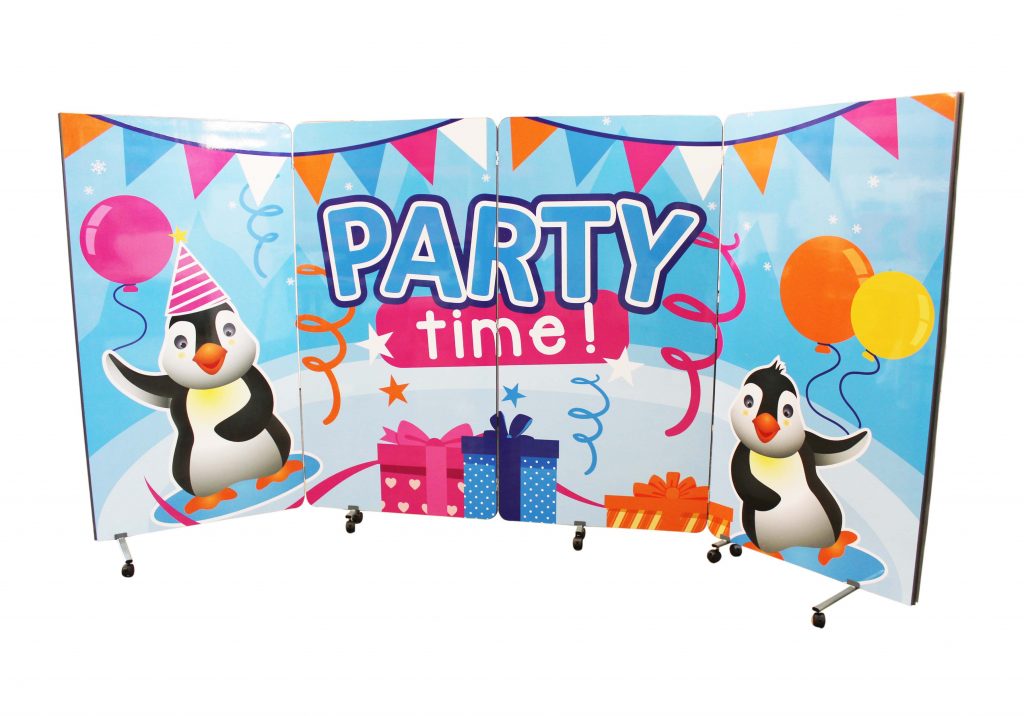 Vision Partitions
A partition mix up – A partition with a window! Sounds great, right? Offering you the noise barrier you may require as well as making the most of the natural day light and keeping the office bright. A great solution if your vision is a 50/50 office, providing a great compromise between open plan and closed spaces.
An added benefit is you have the choice of acoustic to vision ratio!
Dry Wipe Screens
Doodle as you work or make important notes – either is fine with us! Another dual-purpose product, this is suitable for closing off an area or if you require a portable solution for training, the dry wipe screen can work wonders. Wheel in and out when required – lock the castors in place when in situ and the notes made can be transferred around the office or left in place for the next session.
Hopefully you now have a good foundation to start your research. Think about style, budget and how you will use the screen – let the shopping commence!