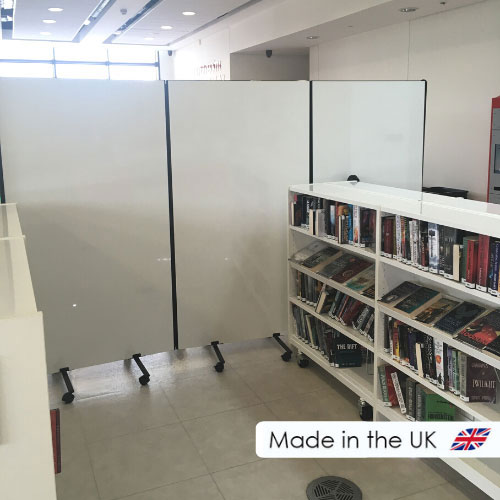 School & Classroom Partitions
Nursery, early years, primary school and beyond can benefit from the addition of freestanding or portable office partition screens. In an environment where there are children playing & students learning, it's important that you can maximise the available space, giving each classroom what it needs to support education.
Fabric to print and loop nylon to laminate, the selection of finishes for the school and classroom dividers can help elevate your space. We understand that the need can change from early learning right up to colleges and universities.
If division and learning didn't go hand in hand, we've fused the two together by turning simple room dividers into a learning tool. We've created a partition screen with multiple uses and can support children as they begin to learn colours, numbers and nursery rhymes. Our Mobi Portable Room Divider has a number of designs that are pre-designed and ready to print, you're able to select these from the product page.
Room dividers and office partition screens can be used as a permanent or temporary feature with the addition of castor wheel. The smooth transition from cupboard to hall, classroom or break room ensures screening can be used only when required.
At Rap Industries, we make each screen to order & we're based in the UK so we can ensure high quality materials with great lead times. Regardless of sectioning a hall, designing exam pods, creating an art display or looking for a multi-functional screen, we're confident we have a solution to suit your school or education sector.

What makes the perfect school or classroom dividers?
Being able to move, adapt and use a divider for more than one purpose is the best kind of screen for a classroom or school environment. The portable feature will always come in useful as this means the same screen can be used in any area of the school and transitioned between classrooms. Portability ensures the most can be made from the screen and used to its full potential. What's more, the available finishes of the classroom dividers ensure the partitions offer more than just a divider and can easily be used as part of teaching.
Adapting partition screens can be achieved by linking multiple screens together, this gives the appearance of a wide partition, when in reality it could be numerous screens connected. Adapting the size and configuration of the classroom office partitions increases the number of ways they can be used and provides endless amounts of design options.
How can the different finishes be used?
Laminate
Our white gloss laminate option is easy clean, bright and accepts drywipe pens. The easy clean classroom partition is versatile, multipurpose and aesthetically is clean and light.
Divide open areas, sanitise with ease and use as a teaching tool with the addition of dry wipe pens.
Printed panels
Printed partition screens are a great way to transform the standard divider into an educational tool. Included numbers, spellings and counting to actively help young learners.
For areas tailored to older children, consider a design more modern and pattern based. Whatever the age range, printed dividing panels are creative, fun and can help with engagement.
Loop Nylon
Loop nylon panels, like the laminate and printed are a multipurpose screen.
Separate an open space or use the panels to display artwork, A level coursework or use as a notice board in the reception area.
Acoustic Screens
For those areas that need privacy and some quiet, any acoustic office screen will be effective. Designed with acoustic foam and high quality materials, noise levels can be controlled, making a more ambient space.
The early years acoustic room dividers are fun with the soft cloud shape, vibrant fabric colours and contrasting blue piped edging.
Our selection of school friendly and classroom dividers elevate a place of learning and open up new opportunities for teaching aswell as how the space is used. Use the laminate, printed or fabric screening solutions to create the suitable learning spaces for both student and teacher. With the multi use room dividers and partition screens, a fun, educational and resourceful space can be created.