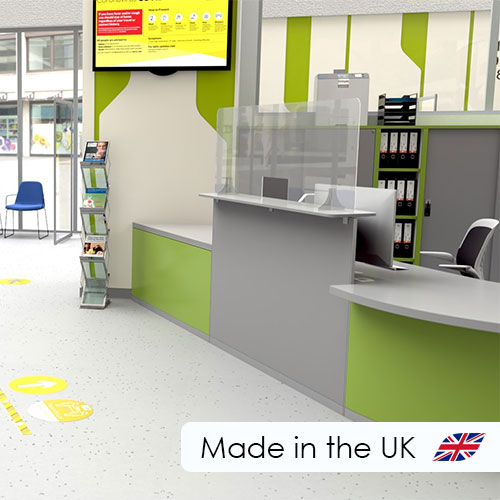 Social Distancing Perspex Desktop Dividers
Social Distancing Desktop Dividers allow you to divide current desks into individual workspaces to comply with the social distancing guidelines. With the help of desktop dividers, you'll be able to clearly mark 2m spaces ensuring safety throughout.
The range of screens Rap Industries have available enable you to sit at your desk, feeling safe and secure whilst following daily demands. With a combination of materials, we've been sure to tailor the desktop dividers to meet all requirements and personal preferences. Utilising acrylic, Perspex, anti-bacterial fabric and treated framework, providing screens which not only looks great but you'll be able to wipe your entire workstation at the end of the day. Making sure you have a clean and sanitised desk each and every morning.
Acrylic and Perspex screening has become increasingly popular due to the versatility. Acrylic desktop dividers can be added to any desk, any office design and still add a minimalist and modern twist – but let's not forget the functionality. Clear and frosted acrylic finishes are available to provide office visibility or privacy where needed.

Find out more about the Desktop Social Distancing Screens
Using desktop dividers within an office can bring many advantages, not only for the office design for functionality and privacy. With the use of a desktop divider you can add a privacy barrier to promote individual working to support productivity levels and increase concentration. At this time, desktop screens can also help social distancing providing each employee with a secure place to work.
With different finishes, we're confident you'll find the right screen for your needs. From a range of acrylics to fabric and laminate, the desktop dividers can positively help your working spaces. Choose your fixings of drill through clamps or upgrade to C clamps for a fast efficient fixing facility.
Each of the desktop divider ranges offer a wide selection of sizes and widths, to support individual requirements and provide the desk support you need.
As everyone begins to re-structure and design their office for social distancing, it was important that we could help and support each office, workplace and work environment. We have designed new desk screens which are suitable for social distancing purposes due to the easy clean material and wide range of height and widths available.
Available finishes from the Social Distancing Desk Divider range
Acrylic and Perspex desktop dividers, along with laminate screens have become a popular option as we return to the office. The clear acrylic provides full visibility, whereas frosted acrylic provides privacy. Which ever option you decide on, you'll be adding a secure Perspex barrier which can be wiped clean and sanitised.
Each of our social distancing desktop dividers are made using high quality materials in the UK, providing continued supported throughout COVID-19.
What are the benefits of the acrylic desk screens?
Ideal for social distancing
Wipe clean surface
Divides and separates each desk space
Works as an effective acrylic and Perspex barrier
Fixes to your desk within minutes