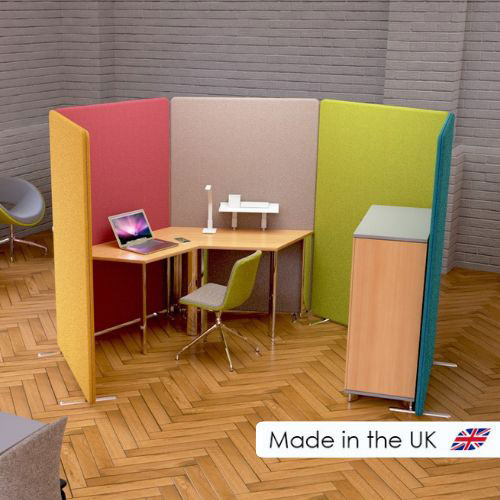 Delta Acoustic Office Dividers
The Delta Acoustic Office Dividers are our most expressive range of Acoustic office screens. An enhanced acoustic design which introduces bold colour and pattern choices whilst effectively brightening any office space. We manufacture the Delta Office Dividers in many different designs, thereby ensuring the screens are usable within different environments and room sizes.
Delta Acoustic Office Dividers are unique compared to traditional office screens and it isn't just the exterior which is different. At the core of the office divider, we introduce acoustic foam which helps to absorb sound waves in order to improve conditions in noisy open environments. This kind of design traditionally helps to prevent reverberation and when packaged into an Acoustic Office Partition Screen, it can provide a similar effect.
All Delta Acoustic Office Dividers are made to order, allowing you to choose the size, shape and colour to compliment your space. The Delta Office Divider has one of the largest screen options and showcases the bold blue edging to contrast against any fabric selection. You'll be able to find, Straight, Curve, Wavetop, Soft Touch, Portable and Desktop Divider styles, with a wide selection of fabrics and patterns to create a unique finish in a standard office space.
Each Acoustic Office Divider is supplied with stability feet that slot into the base of the screen. The supplied feet are trip and wheelchair friendly and can be safe to use in all open spaces.
The Delta Acoustic Office Dividers focus on introducing a partition screen which will help to address some of the biggest concerns associated with open plan environments. We manufacture each element using high quality materials to ensure the Delta Acoustic Partitions are as effective as possible and decrease workplace distractions. Inside each screen there are two thick layers of acoustic foam which help to absorb office noise.
To create an office divider which is tailored to the needs of our clients means that we manufacture them ourselves at our premises in Peterborough, Cambridgeshire. From here we take care of the order from the first call to it leaving our doors. As we perform thorough checks throughout the manufacturing process, we include a five-year manufacturer's guarantee with all the Partition Screens that we produce.
The Delta Acoustic Office Dividers can be purchased as a Straight, Curve, Wavetop, Cloud, Portable & Desktop Divider style. Fabrics are available from the Universe and Manhattan ranges, providing a larger colour spectrum in a variety of shades. The fabric colours are available as part of the Standard and Deluxe Delta Office Divider.
What screen styles are available from the Delta Acoustic Office Divider collection?
Each of the Freestanding Acoustic Office Dividers are compatible with each other and can be used to create a configuration to maximise your floor space. Whilst the Delta Office Partitions can't be linked, it's possible to position next to each other. Design individual workspaces, meeting pods and quiet working areas.
The Delta Desk Divider attaches to the back of the desk, unlike the freestanding variation. Desktop Dividers help with space and noise and can be utilised in the smallest of office space. Easy fix clamps are the quickest and most effective way to attach the Acoustic Desk Dividers to the chosen workspaces, and can be moved without any last marks.
Choose a unique shape and patterned fabric from the Delta Cloud & Velvet office screen range
We're known for our Delta Cloud Acoustic Office Dividers that can't be found anywhere else. The cloud shape takes the standard straight and curved Office Screens and creates a divider with a massive difference. It's possible to combine the different heights and still be able to use them together. The soft curve of the Cloud Acoustic Office Screens fit into one another, resulting in a seamless row of stylish divider.
Try something new with the Delta Velvet Acoustic Partitions, offering the same unique shapes and styles but with a patterned fabric. The available fabrics are patterned with animals, numbers, geometric designs and shapes suitable for corporate environments. As well as the patterns, another main feature of the Delta Velvet Acoustic Office Dividers is the feel of the fabric. A soft touch fabric, that feels just like velvet with a smooth finish. The addition of patterns and the super soft fabric makes the Delta Acoustic Partitions suitable for offices, receptions and schools for sensory benefits.