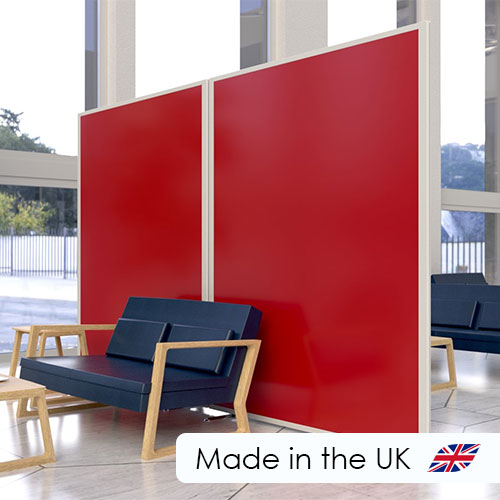 Laminate Office Screens
LikeLaminate Partition Screens provide an alternate finish to the standard acoustic and acrylic office screen. The white gloss laminate finish offers a wipe clean finish, and can be thoroughly sanitised which for some spaces is the main objective of a laminate dividing screen.
Portable and freestanding styles are available with the gloss laminate finish. The variation of styles ensures the easy clean panels can be used as permanent or temporary solution. The portable laminate dividers are ideal to grab and unfold as and when required, where the freestanding laminate screen can be added to a space for long term divisions.
In addition to the easy clean aspects, the white gloss laminate is compatible with drywipe pens, converting a standard room divider into a white board. The multipurpose laminate widens the spaces the partition screens can be used and become a useful feature across different spaces and industries.
We make and manufacture each laminate partition and divider to order, using high quality materials, all of which we strive to source from the UK. Select the frame colour, height and width and laminate colour for a customised laminate partition screen.
For any advice or guidance as to which option is the best for you, why not contact a member of our experienced team and we will put you in the right direction, so you can benefit from the best product and for a price you will appreciate.

More from the Laminate Office Partitions
Laminate office screens retain the same high-quality design which features with our other office screens. This means that they are lightweight and can be easily moved when required, but they are also sturdy and stable once setup and in place. With every screen included in this section, we apply a high-pressure laminate to each. This ensures a fantastic finish which is designed to last for many years to come.
The design and manufacture of the laminate partition screens is undertaken here at Rap Industries. Each product is made to order, which means there are a variety of ways in which the screens can be modified in order to adapt to your environment. Throughout this manufacturing process, we always use high quality materials so that the laminate office screens retain a fantastic finish even after regular use.
A main priority of ours when designing the laminate screens was to create a product which is easy for our clients to use. We ensure that each screen is easy to set up as soon as you pull it out of the box, so they can be set up in a matter of minutes. All that is required on your part is to apply some linking strips or desk clamps and then the laminate office screens are ready to be used.
Styles of Laminate Office Partitions
Portable and freestanding laminate screens expand the possibilities of an open space and provide temporary or permanent dividing solutions. Portable room dividers are designed to be lightweight, easy to unfold, move and store. The ease of use means the portable screens can be pulled out when needed, but just as quickly can be folded away and out of sight.
In comparison a freestanding office dividers creates a permanent division, but can be adjusted in the future. Cover the desired width by combining multiple freestanding partitions and effectively divide a space for protection, to reduce noise or to divide departments. Regardless of the partition style, the white gloss laminate is just as effective for wiping clean, using as a white board and creating a clean and fresh appearance.