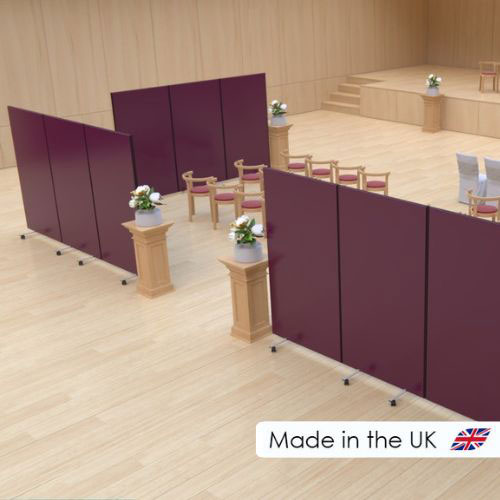 Partition Walls
If you're looking for partitions to sit within a certain area, look no further as Rap Industries Partition Walls are available to cover varying widths. Adding a partition wall into an office, school or hospital allows an open space to be maximized and separated into multiple areas, all of which can be used for different purposes.
Printed, fabric, loop nylon or white gloss laminate, the Partition Walls have a lot to offer and work well throughout different environment with specific requirements. Choose the right finish to enhance your space and achieve the intended goal, whilst having access to portable and freestanding solutions to execute either a permanent or temporary room divide.
Throughout the Partition Wall selection we have various linking and non-linking office partitions which are equally as effective when dividing an open room. Linking office solutions are a suitable choice when looking to adapt and extent the partition wall in the future.
Browse through partition walls ranging from 2m – 5m, all of which are made to order in the UK, by Rap Industries. Using high quality materials, vibrant inks and modern fabrics to ensure the finished look is the perfect fit. If you're unsure on the type of divider that will suit your need, speak to a member of our team, by complete our contact form and we'll be happy to help!
Learn more about the Partition Walls
Find the right sized Partition Walls with Rap Industries and shop by size covering spaces from 2m – 5m. By grouping the portable room dividers and the freestanding office screens, it's possible to locate the right size and finish by browsing through the available categories and opting for the most practical solution.
Available finishes for the Partition Walls
Loop nylon and fabric options are available and can be confused as offering a similar finish, when in actual fact the loop nylon has more to offer than just a colour. The loop nylon fabric works with the hook self adhesive dots and allows the application of light weight posters and printed content. So should you need to divide a space as well as create a display, loop nylon ticks all the right boxes.
A printed partition wall is one clear way to express yourself. Use the double sided panels to focus on logos, company colours and what you have to offer. Nothing is off limits with the printed partitions, implement any image or font your heart desires.
White gloss laminate provides all spaces with a bright and clean finish. Even in the darkest spaces, the glossy finish will add some brightness. And to make the laminate office screens even more attractive, each panel is easy to clean and accepts dry wipe pens.
Choosing the right Partition Walls for your space
To ensure you get the ideal, the most important step is to measure the space accurately and to decide which size is going to compliment the space best.

Select from a portable or freestanding office screen solution.

Choose the correct finish from loop nylon, fabric, laminate or custom print.