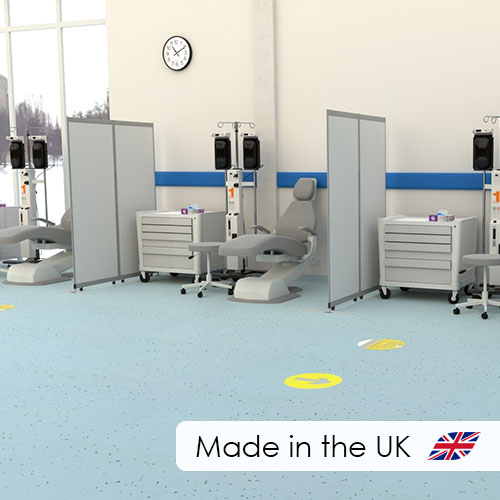 Medical Screens on Wheels
Our Medical Screens are made for fast paced environments, where time is of the essence. The portable screening solutions are on castor wheels to make transportation for each screen as easy as possible. The design ensures the medical screening can be moved across different departments with a light weight structure and factory fitted wheels.
In line with a medical environment, the ability to sanitize and disinfect is an important factor. This is why we've used a white gloss laminate which can be wiped clean with stronger cleaning products, for a deeper clean. An alternative to the white gloss laminate, is the anti-bacterial screen which takes a leather look material with bacteria fighting properties to provide maximum protection
Along with the portable style, the concertina panels can be folded which aids the easy movement, and works perfectly when it comes to storing the medical partition away. With medical screens available from different screening ranges, you'll be welcomed with a variety of styles and sizes to suit your bacteria conscious space.
Medical Screens on Wheels
Keep screens moving with the medical screens on wheels!
The possibility to move and adjust a divider is a fantastic feature and is perfect for a medical environment. With people on the go constantly, urgency is needed and the portable room dividers can work in this type of space.
Easy to be moved, folded and wheeled to different areas for privacy, creating a safe environment for the patients. Once of the main benefits being the white gloss laminate finish, designed for sanitation and cleaning purposes, controlling the spread and growth of bacteria.
The portable medical room dividers don't always have to be on the move! Set the partition screens in place and divide an open plan space. On the move or freestanding, the Medical Screens can be used exactly where you need them to be!