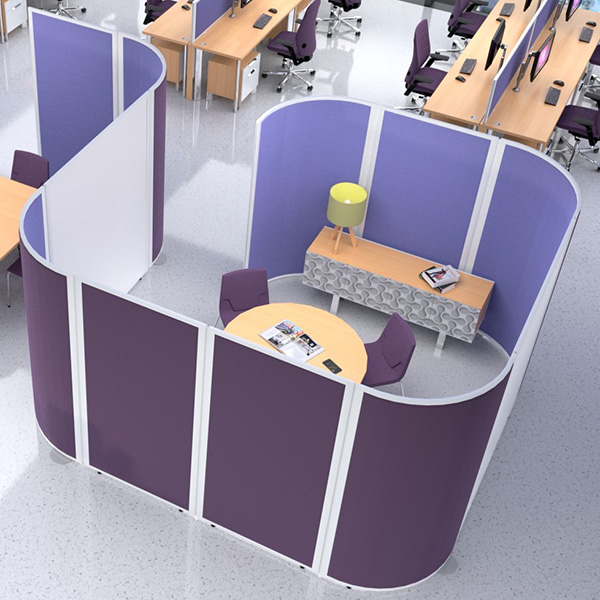 Morton Acoustic Screens
The Morton acoustic screens provide a professional as well as practical method for dividing and improving open environments. Open plan designs can look fantastic, however practical issues such as with audible and visual distractions can increasingly become an issue. The Morton range of acoustic office screens are designed with these particular problems in mind and they can help to improve productivity and make the space more pleasant to work in.
These partition screens feature a professional design which is combined with an acoustic core in order to make them extremely effective in open environments such as offices, classrooms and receptions. We produce a variety of different designs such as the vision panels which ensure that the Morton acoustic partitions are able to adapt to your environment and make it as comfortable as possible.
We produce all of the Morton acoustic screens to order which means that we can help to ensure you are making the most from your budget. These screens are manufactured in different styles and sizes, so we have a number of options which can help to make the environment more practical while retaining the open plan design. With all of the partition screens that we manufacture, there is five-year manufacturer's guarantee included.

The Morton Acoustic Screen Range
The Morton office partitions are designed and then manufactured here at Rap Industries. We have been working with clients for over 40 years so we have our fair share of experience working with open plan environments. We have used this experience to refine and improve our Morton office screens to ensure they are as effective as possible in creating an environment which is pleasant to work in.
Each screen begins with a sturdy core which helps to make the panel fairly lightweight if you ever need to move it around, but also ensures it is strong and sturdy once set up. The next step is to add two thick layers of acoustic foam which are crucial for helping the screens to soak up sound waves. Finally, we cover each panel with the fabric which is available in a number of different colours.
On the individual item pages, you can find out a lot more in-depth information about the Morton acoustic office screens and quite how they can benefit your open environment. If you are still struggling to work out which screens would be best for you, then feel free to get in touch with our team of advisors by calling 01733 394941 or send an e-mail to [email protected] where they can provide further assistance.