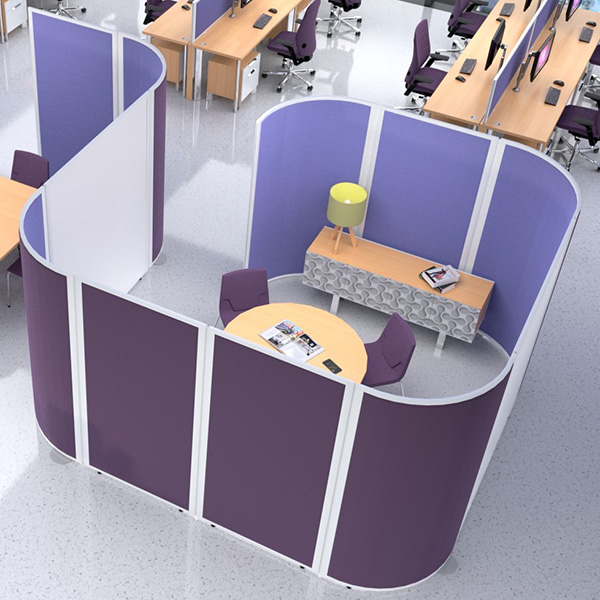 Morton Acoustic Office Screens
The Morton Acoustic Office Screens provide a professional and practical method for dividing and improving open environments. Open plan designs can look fantastic, however practical issues such as with audible and visual distractions can increasingly become an issue. The Morton Acoustic Office Screens are designed with these particular problems in mind and can help to improve productivity and make the space more pleasant to work in.
These Office Screens feature a professional design which is combined with an acoustic core to make them extremely effective in open environments such as offices, classrooms and receptions. We produce a variety of different designs such as the vision panels which ensure that the Morton Acoustic Office Screens are able to adapt to your environment and make it as comfortable as possible.
The Morton Acoustic Office Screens are encased in a powder coated aluminium frame, supplying the office screens with a modern finish. As well as the visual appeal, the framework enables the Office Screens to be connected together with the supplied linking strips. Choose from a white, black or silver frame to compliment your chose fabric colour. Trip and wheelchair friendly stabilising feet are included as part of the Morton Office Screens and will match the chosen frame colour.
Rap Industries are a UK manufacturer, making all the Morton Acoustic Office Screens to order based on your specifications. These office screens are manufactured in various styles and sizes, so we have several options which can support a practical environment while retaining the open plan design.

About the Morton Acoustic Office Screens Range
The Morton Office Screens are designed and then manufactured here at Rap Industries. We have been working with clients for over 40 years so we have our fair share of experience working with open plan environments. We have used this experience to refine and improve our Morton Office Screens to ensure they are as effective as possible in creating an environment which is pleasant to work in.
Each Acoustic Office Screen begins with a sturdy core which keeps the panel fairly lightweight if you ever need to move it around, but also ensures it is strong and sturdy once set up. The next step is to add two thick layers of acoustic foam which are crucial for helping the office screens to soak up sound waves. Finally, we cover each panel with the fabric which is available in a wide range of colours and various shades.
Which styles of screens are available?
The Morton Acoustic Office Screens are available as various freestanding solutions and a Desktop Divider. Freestanding Office Screens are a great way to divide large open spaces, helping to reduce noise and incorporating more privacy to each department.
Curve and straight Office Screens show different variations of the same divider and can be used in conjunction with one another. Located on the side of the office screens within the powder coated frames, you'll find the linking feature. Each of the Morton Freestanding Office Screens come supplied with a linking strip, enabling an acoustic configuration of choice.
The Morton Desktop Dividers bring a focused approach to reducing in noise. Rather than standing from the floor, the desk divider will attach easily to the back of a desk with easy fix clamps. Positioning the Acoustic Desktop Divider at desk and head height allows the screen to catch voice projection whilst being positioned at the optimal height.
Discover more Morton Office Screen options
Morton+ & Morton Standard Office Screens include the same core, acoustic foam and manufacture process, but with a fabric difference. The Morton+ Office Screens are upholstered in an upgraded Universe fabric showcasing bright and fun colour options. Our Morton Standard screens use the just as popular Woven fabric.
If full Acoustic Office Screens aren't the screens for you, we have a hybrid solution between the acoustic and acrylic dividers. The Morton Vision Office Screens combine acrylic and acoustic panels with both materials offering different benefits. The acoustic panel will assist will light noise absorption and the acrylic acts as window, letting natural light in to the space and won't cause a full obstruction of view.
On the individual item pages, you can find out a lot more in-depth information about the Morton Acoustic Office Screens and quite how they can benefit your open environment. If you are still struggling to work out which screens would be best for you, then feel free to get in touch with our team of advisors by calling 01733 394941 or send an e-mail to sales@rapind.com where they can provide further assistance.