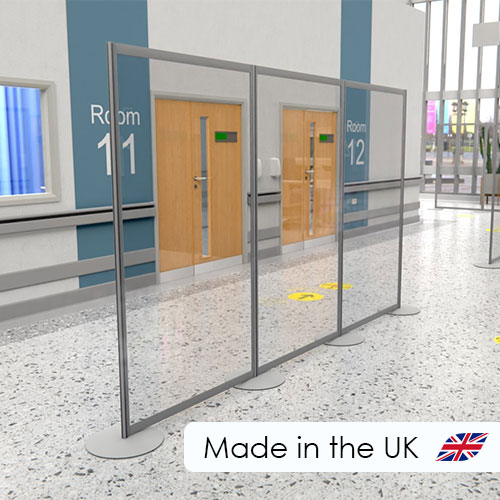 In Stock Social Distancing Screens
The In Stock Social Distancing range has been introduced so we can provide acrylic, wipe clean screens within a quick time frame. With the need of screening requirements changing, it's important that we can offer a wide range of solutions, thus tailoring our popular screens for those who require instant shipping.
Our clear perspex in stock office partitions will effectively divide open spaces, partition your desk spaces and create suitable workspaces. Whilst the acrylic will act as a divider, the clear finish will provide full visibility throughout the office and ensure natural light continues to circulate through the office. In addition to the full transparency of the office partitions and desktop dividers, each surface can be wipe clean, reducing the spread of germs through the office.
Each Acrylic and Perspex screen is made and manufactured in the UK using high quality material. The In Stock Office Screens will be dispatched within 24 hours, ensuring your social distancing safety measures can be in position within days.
To discuss your social distancing screen requirement, please call a member of the team on 0733 394941 or you can email us on sales@rapind.com.
More about the In Stock Social Distancing Screens
The In Stock Social Distancing range has been designed with convenience and urgency in mind. As much as we like to plan ahead, we know that tough times have prevented the ability to do so in certain situations. With an instant ship, 24 hour dispatch screen, you're last minute requirement can be fulfilled by us at Rap Industries, as UK screen manufacturers.
Social distancing has been implemented in the workplace, making it mandatory to safely distance from colleagues. With the help of clear acrylic and white gloss laminate, you'll be able to create a stylish divide that can be wiped clean, reducing the spread of germs. Whether you prefer a freestanding or desktop screen solution, you have options available.
Adding clear Perspex screens to your desk space enables you to divide the desk into single workspaces. By doing so, you'll have full visibility into each workstation making it simple to communicate and continue work as usual. The Laminate option has a white gloss finish, which accepts white board pens. Designed to make notes and easily wiped clean for the next use.
Each of our In Stock Social Distancing Screens are made using high quality materials in the UK, providing continued supported throughout COVID-19.
What are the benefits of the In Stock Social Distancing Screens?
Instant ship, 24 hour dispatch
Clear acrylic and Perspex screens
REACH compliant, white gloss laminate finish
Made in the UK
Quick simple assembly
Designed with wipe clean surface
Suitable for social distancing