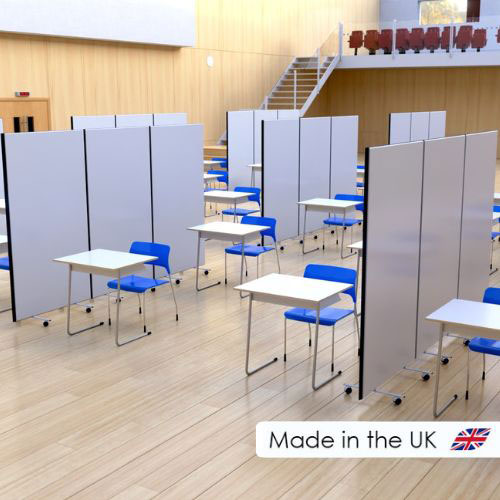 Room Dividers
Room Dividers are designed for quickly and easily dividing open environments. These portable partitions combine a lightweight design with strong and sturdy panels to create a simple system which can be rolled out instantly. The Room Dividers can be customised in various ways, including the number of panels as well as the fabric colour to ensure they are able to integrate with the existing aesthetic of your environment.
The portable nature of the Room Divider Screen means they excel in open plan environments such as offices, classrooms, gymnasiums and more. In particular, the portable Room Dividers can be used to create privacy in areas or completely divide spaces to allow separate activities to take place. The Room Dividers can be manufactured with a number of different finishes such as laminate panels or printed panels, allowing them to be much more than just a dividing partition.
We design and manufacture all the portable partitions here at Rap Industries and we tailor each order to suit the needs of our clients. Loop nylon, woven fabric, white gloss laminate and printed surfaces are all available as a room divider and can elevate the use of a space. The range of choice opens up a wealth of options where you can find out more about on the individual item pages
Choose between a single portable screen or the concertina design which links numerous panels together and are easily folded away. The use of castor wheels ensures the portable room dividers can be smoothly moved around to different locations. Many of the designs can be used in multiple ways, meaning the space also becomes multipurpose.