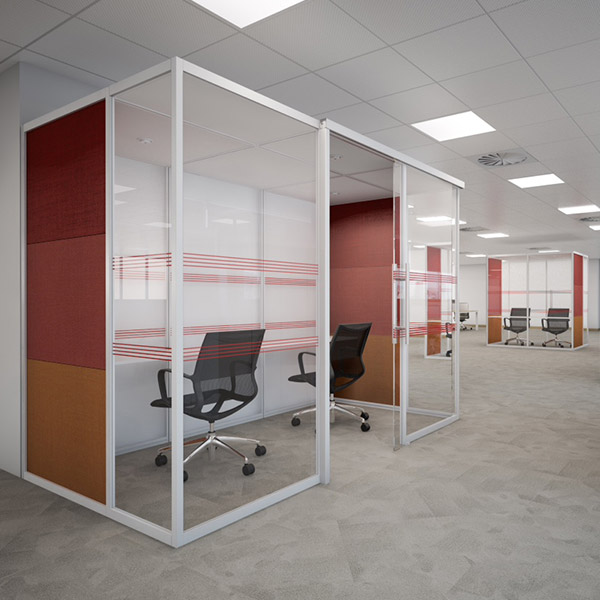 Individual Office Pods
The selection of Individual Office Pods available from Rap are designed to provide a private space for focused working, away from the many distractions of the everyday office. With a variety of sizes and finishes, there's an option for every budget, from full, private pods with closing doors to acoustic seating pods that are more open and inviting.
There are often times in an open plan office environment where managers and directors require a private working space, especially when handling important, confidential data. Not only do individual pods improve the security of this information but also improve effeciently for employees requiring this secluded workspace. The glass wall panels on many of the pods also allow for the natural light to flow through, while keeping the pod approachable and involved in the office.
Individual Office Pods also benefit the employees who continue to work in the general office environment. By providing this space for managerial staff, it not only provides more desks but also keepings working teams together in turn improving their efficiency. With their managers working within this acoustic spaces that are ideal of one-to-one meetings, it allows employees to feel more comfortable sharing important information where they know others can't overhear.
Individual Office Pods can benefit your office and employees in many ways:


Private work space

Focused working with minimal distractions

Ideal for open plan offices

Choice of sizes and finishes

Budget friendly options

Both full acoustic pods and acoustic seating

Private and semi-private options with and without doors

Improves individual and group efficiency

Glass panels allow natural light




All our Individual Office Pods are manufactured to order with your chosen finishes, fabrics and design, so the pod will fit perfectly with your existing office style. Looking for something even more bespoke? Give us a call on 01733 394941 to discuss!


Installation
We offer a full installation service wherever you are for an additional cost, speak to one of our installation team today for a dedicated price on 01733 394941.
Warranty
All our Individual Office Pods are is provided with a manufacturer's guarantee although this varies in length depending on the product range. Guarantees are listed on the individual product pages or contact us for more information.