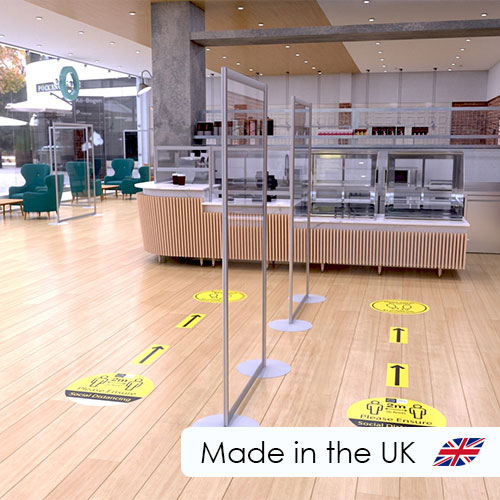 Social Distancing Freestanding Screens
The Social Distance Freestanding screen shows you a selection of ways in which your work environment can be adapted to support your team. By implementing the 2m distance rule along with a screening solution to contribute as a barrier to keep colleagues and employees safe and healthy.
All freestanding solutions have a wide range of benefits and features, but the main objective is the ability to wipe the screens each day to prevent the spread of germs and to offer security to individuals. Ranging from REACH compliant laminate, clear and frosted acrylic and treated materials and fabrics, our screens are suitable for all work places and requirements.
Within the Social Distancing Freestanding range, we have an In Stock acrylic divider which will be dispatched within 24 hours. So, if you're looking for a quick, modern and effect solution, Rap Industries has the Modular Protection Screen ready and waiting.
Each screen is manufactured to order and delivered to an address of your choice. As standard your freestanding screen will be supplied with trip and wheel chair friendly stability feet. However, if you're look for a portable solution, upgrade to castor feet for a portable anti-bacterial, wipe clean screen.
Freestanding acrylic and Perspex screens have been designed to support each workplace through COVID-19. Clear acrylic screens will provide the protective barrier you require whilst giving full visibility. The frosted Perspex delivers a slightly opaque finish, supplying privacy where needed. Find the right solution with our complete Social Distancing Collection.

Shop Freestanding Social Distancing Screens with Rap Industries
Freestanding social distancing Perspex screens are beneficial in all environments by providing privacy, designated work areas and can be used for business and social reasons. With social distancing coming in to play, desk dividers and office partitions have never been more important. Adding clear or frosted acrylic screens as an additional precaution, allows you to create 2m spaces safe for employees and potential guests.
Freestanding office screens can be used as individual dividers or connected to create work pods or training rooms. The linking facility on a range of our screens, enables linking together with ease as each screen is supplied with a linking strip. Create bespoke rooms for your requirement, which can be adapted at any stage.
In addition to acylic screening, REACH compliant laminate is another ideal material due to the easy clean finish and the ability to sanitise between uses. Available as a freestanding or portable screen solution to suit a temporary or permanent requirement.
Adding Acrylic Freestanding Screens to your workplace
With a range of designs, it's without a doubt that you'll add a functional screen as well as a screen to enhance and complements your workspace. Select a glazed dividing partition screen which complies with your office design and adds value to the area.
Introducing Perspex screens and desktop dividers can be beneficial as part of your office design in addition to the current social distancing rules. Using a material such as acrylic, provides a solid surface which can be cleaned with ease to rest assure you are taking the correct actions to reduce the spread of germs.
Each of our social distancing screens are made using high quality materials in the UK, providing continued supported throughout COVID-19.
With many reasons to select a clear acrylic screen, what are the main benefits?
Suitable for social distancing

Easy clean, wipeable surface

Creates a clear acrylic/Perspex safety barrier

5mm and 3mm clear acrylic options

Enhances office design

Effectively divides work areas and desk space

Freestanding and acrylic desk screens available