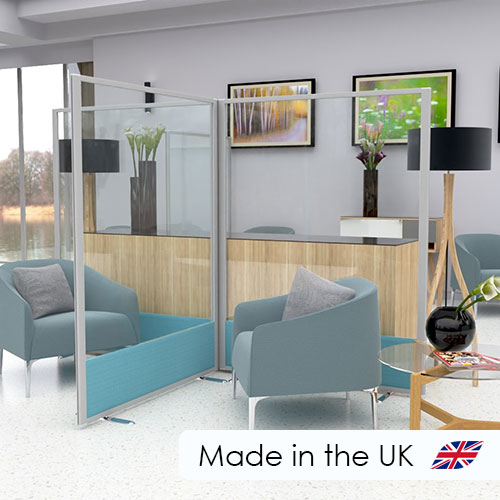 Glazed Office Screens
Glazed Office Screens are stylish and practical dividers that are ideal for use in open plan indoor environments. Our selection of acrylic office partitions include a clear or frosted finish to balance out the levels of natural light and possible visibility. Clear Perspex provides full visibility, acting as a divide between areas rather than adding any level of privacy. However, the frosted acrylic is the perfect combination for privacy and letting some natural light through.
Our glazed office screens are available in a number of different styles, so your environment can be tailored to provide various degrees of privacy. Full vision screens allow plenty of light through but do very little to prevent visual distractions. Alternatively, there are the vision tops screens allowing some natural light to flow through while creating plenty of privacy in the open environment, as the base of the partition includes fabric or laminates.
Customisation is available when you're building your ideal glazed office divider. Select the aluminium frame colour, the type of acrylic, fabric colour along with the suitable size for your space. Why not consider incorporating a printed logo onto the acrylic section, resulting in a fully branded partition, unique to your business and office space.
We design and manufacture all glazed office partitions here at Rap Industries, based in Peterborough. As a UK manufacturer we strive to provide high quality office partitions, using materials sourced from the UK, supporting local businesses.


Glazed Screens from Rap Industries
Glazed Office Screens are an effective way to divide an open space without losing any light. Natural light can make all the difference in an office space and change the mood and how we perform. Glazed partition screens offer a hybrid solution that tackles more than one office issue. A combination of acrylic panels, acoustic foam and laminates offer a solution to suit varying office requirements and aesthetic preferences.
Clear and frosted acrylic variations offer varying degrees of privacy and transparency. Glazed office partitions using clear acrylic transmits the most light and won't supply privacy, unless selected as the Morton Vision Top designed with a smaller window section at the top of the partition. Frosted acrylic isn't fully opaque but blocks out details and makes it possible to see shadows, shapes and colours.
The Morton Glazed Office Partitions deliver a full, half and top vision design, offering 3 stages of visibility. The ratio's of fabric to acrylic alter across the designs to offer as much privacy as needed. Starting with the Morton Full Vision Office Divider, almost the entire divider make up of the screen is acrylic, with a smaller fabric base section. Next, is the Morton Half Vision Partition which is the ideal 50/50 split of acrylic and fabric. Finally, the Morton Vision Top Office Divider, which is essentially 75/25 fabric to acrylic, showing the top panel as the clear or frosted acrylic.
Each of the acrylic partition screens are made in the UK, by Rap Industries. To proceed with an order, we need to know the size, frame colour, fabric and acrylic choices and we can begin making the order just for you. Lead time can vary amongst the partition designs and can be found on the individual product pages.