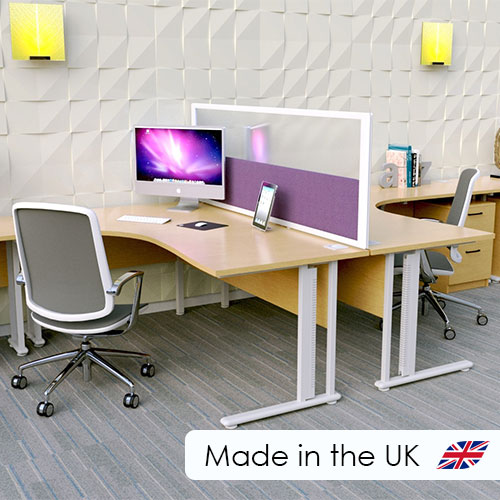 Desktop Screens
Desktop Dividers are a fantastic addition for providing privacy to desks which are in close proximity to others. We manufacture a huge range of office screens and each has unique properties for enhancing your environment. From Pinnable Desktop Screens to Acoustic Desktop Screens or even Safeguard Desktop Dividers, there are plenty of options available.
Desktop Divider Screens are designed for office spaces where there are noticeable visual and audible distractions. If office noise is the main complaint, we have a wide selection of Acoustic Desktop Dividers which are lined with single and double layers of acoustic foam based on the severity. However, for any other distractions or dividing requirements, the extensive range will have a suitable solution.
The Desktop Dividers simply clamp securely to the desk, providing privacy for employees and students looking to concentrate. For more details on how to secure your office screens into place, watch our detailed video
When attaching any style of Desktop Divider to the back of a desk, you'll notice that no amount of floor space is used. The compact design of a desktop style screen will excel in smaller offices space whilst still having a place in larger, open plan office spaces.
All the Desktop Divider Screens are manufactured here at Rap Industries and we have over 40 years of experience creating office furniture for clients from a range of industries. As a UK Manufacturer, we make and manufacture each Office Screen and Desktop Divider based on your chosen style, size and fabric colour.


Find out more about our extensive range of Desk Dividers
We begin manufacturing each Desktop Divider with an innovative honeycomb core. This ensures the screen is remarkably lightweight and after it is pressed under immense pressure, it makes the screen extremely strong. Customisation of the screen then begins as we can include pinnable boards, acoustic foam, wave tops and a number of other options which can be picked out to personalise your Desktop Divider Screens.
We have designed the Desktop Divider Screens with a simple installation method which means they can be quickly and securely applied to your office space. This is largely down to the clamp which safely secures the Divider Screen to your desk. Then it is simply a case of adding the linking strips and connecting any of the Desktop Office Screens together for additional stability.
The Acoustic Desktop Dividers are an alternative to the freestanding acoustic office screens. Unlike the freestanding styles, the Desktop Divider won't require any floor space and can still offer considerable benefits when it comes to office noise and daily distractions.
Acoustic foam lines the front and back of the Acoustic Desktop Dividers and brings focus to each work space. The addition of acoustic foam and fabrics will assist with the absorption of unwanted noise, whilst creating a comfortable working environment.
The acoustics can be added for those who need it and require a quieter working space to maximise productivity.
If noise isn't a concern, then the Omega Pinnable Desktop Divider could be the one for you! Instead of the acoustic foam, both sides of the office divider are completed with a pinnable core, therefore accepting pins.
If desk space is limited and having a pin board on your desk would be a useful accessory, the pinnable Desktop Screens can be an office divider and a pin board rolled in to one.
Introduced with social distancing in mind, the Acrylic Desktop Dividers are a non-invasive method of introducing office screening. The almost undetectable clear acrylic is subtle in appearance yet marks the division between desktops.
Acrylic Desktop Dividers are easy to clean, enable natural light to reach each space and allow communication to continue as normal.
Can't decide between acrylic and acoustic? The Morton Vision Desktop Dividers are the perfect solution. Combining 2 materials with a noticeable contrast that can support the office in various ways.
The acoustic section of the Morton Vision Desktop Divider will still bring some level of acoustic properties and help with excessive noise. In comparison, the acrylic panel keeps each work space open, full of light and makes it just as easy for teams and departments to work together.
If a particular design has caught your eye, then you can find further information on the individual item pages. There you can find specific details on the product itself and the customisation options available. If you have a unique design in mind, then you can give our team of advisors a call and they can discuss which options would be best for your environment. They can be reached by calling 01733 394941 or by sending an e-mail to sales@rapind.com.