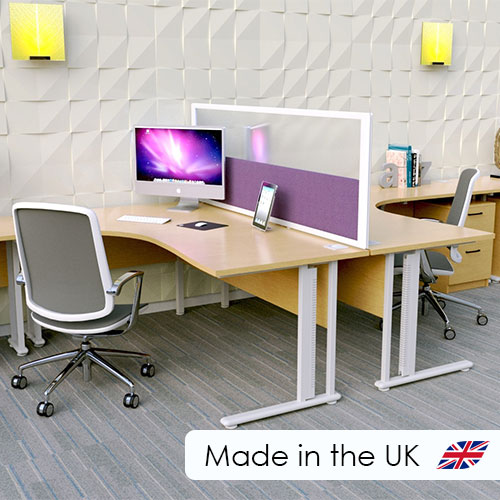 Desktop Screens
Desktop screens are a fantastic addition for providing privacy to desks which are in close proximity to others. We manufacture a huge range of screens and each has unique properties for helping to enhance your environment. From pinnable desktop screens to acoustic desktop screens or even Safeguard screens, there are plenty of options available. As the manufacturers, this means the design can be tweaked and changed to ensure they fit your environment.
Desk divider screens are designed to be ideal in office spaces where there are noticeable visual and audible distractions. The screens simply clamp securely to the desk and then provide privacy for employees and students looking to concentrate. With the options available, these can be customised with a number of different finishes to help improve the overall environment.
All the desktop screens are manufactured here at Rap Industries and we have over 40 years of experience creating office furniture for clients from a range of industries. This means that each screen can be customised with a number of tweaks and changes. As an added seal of approval, we also provide a manufacturer's guarantee with all the desk
divider screens that we dispatch.



The Desktop Screen Range
We begin manufacturing each desktop screen with an innovative honeycomb core. This ensures the screen is remarkably lightweight and after it is pressed under immense pressure, it makes the screen extremely strong. Customisation of the screen then begins as we can include pinnable boards, acoustic foam, wave tops and a number of other options which can be picked out to personalise your desktop screens.
We have designed the desk divider screens with a simple installation method which means they can be quickly and securely applied to your office space. This is largely down to the clamp which safely secures the divider screen to your desk. Then it is simply a case of adding the linking strips and connecting all of your desktop office screens together for additional stability.
If a particular design has caught your eye, then you can find further information on the individual item pages. There you can find specific details on the product itself and the customisation options available. If you have a unique design in mind, then you can give our team of advisors a call and they can discuss which options would be best for your environment. They can be reached by calling 01733 394941 or by sending an e-mail to [email protected].