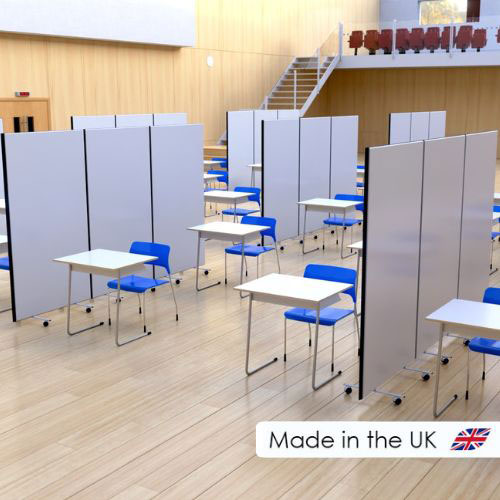 Room Dividers
Room Dividers are designed for quickly and easily dividing open environments. These portable partitions combine a lightweight design with strong and sturdy panels to create a simple system which can be rolled out instantly. The Room Dividers can be customised in various ways, including the number of panels as well as the fabric colour to ensure they are able to integrate with the existing aesthetic of your environment.
The portable nature of the Room Divider Screen means they excel in open plan environments such as offices, classrooms, gymnasiums and more. In particular, the portable Room Dividers can be used to create privacy in areas or completely divide spaces to allow separate activities to take place. The Room Dividers can be manufactured with a number of different finishes such as laminate panels or printed panels, allowing them to be much more than just a dividing partition.
We design and manufacture all the portable partitions here at Rap Industries and we tailor each order to suit the needs of our clients. Loop nylon, woven fabric, white gloss laminate and printed surfaces are all available as a room divider and can elevate the use of a space. The range of choice opens up a wealth of options where you can find out more about on the individual item pages
Choose between a single portable screen or the concertina design which links numerous panels together and are easily folded away. The use of castor wheels ensures the portable room dividers can be smoothly moved around to different locations. Many of the designs can be used in multiple ways, meaning the space also becomes multipurpose.


Room Dividers
All of portable room dividers begin with a strong and sturdy core which provides the foundations for a strong and stable partition. With a range of screen finishes available, all of which can be chosen based on the requirement. Finally, we add a durable plastic edging which helps to protect the panels from any bumps and ensuring they last for many years to come.
Setting up the portable partitions is remarkably simple. Once the order arrives they can be removed from the box and set upon the included castor wheels. All the panels are already packaged together, so all you need to do is stand the partitions upright and then pull them outwards as you see fit. If you are linking multiple screens together, then additional linking strips are provided. With that all done, your room dividers are ready to be used.
We create our portable partitions to be manufactured with high quality materials. This helps to create a system which is not only extremely effective in open plan environments, but it also helps to extend the life of the product.
More about our Portable Room Divider range
Mobi Portable Room Dividers
The Mobi Portable Room Divider range has a finish for all eventualities and thrives in open plan space. The Mobi Portable Divider design includes 687mm wide panels which are linked together to a panel width of choice. Whilst the panel kits can't be linked together, you can position need to each other to create a bespoke width.
The available finish includes loop nylon fabric, anti-bacterial fabric, white gloss laminate and custom print. Each brings a different aspect into a room and can be used in more than one way.
Loop nylon fabric is compatible with the hook self-adhesive tape so with the inclusion of being a room divider, the loop nylon serves a purpose as a display board.
Our Anti-Bacterial fabric has been treated with sanitised technology and is resistant to blood and urine. The Mobi Anti-bacterial is a great addition to medical or healthcare environment.
Easy Clean Mobi Dividers include the use of white gloss laminate which is easy to clean and accepts drywipe pens. Our high pressure laminate can withstand bleach and chloring based cleaning products so if hygiene is a priority, the easy clean finish is suitable for deep cleaning.
The Printed Portable Room Divider enables full customisation as each panel can include a different print. Use the double sided panels add a creative, educational and fun edge to any open plan space.
Flexi-Screen Portable Room Dividers
The Flexi-Screen Portable Room Divider includes high quality castors which provide extra stability and allow the screen to move around smoothly. Unlike the Mobi, the Flexi-Screen has a linking facility and comes supplied with flexible linking strips. The linking facility enables multiple Flexi-Screens kits to be linked together and can also be fastened to the wall.
Choose from a loop nylon fabric, woven fabric, white gloss laminate or printed finish. Whether you need a portable notice board, white board or just a portable screen, the Flexi-Screen can be used in each circumstance.
As part of the portable room dividers range, you'll also be able to find Acoustic Office Screens. The Acoustic Office Screens are supplied with castors wheels which need to be attached inside the designated spaces as the bottom of the partition. If working in a loud environment becomes too distracting, acoustic foam can assist with noise reduction and create a more peaceful working space. The portable aspect enables the acoustic properties to the moved between spaces which require additional support.
Acoustic Portable Partitions
If the concertina function isn't important for the requirement take a look at the acoustic portable partitions, which have been created by adding castor wheels on to a freestanding screen. By switching the stability feet, we've created a room divider on wheels, all whilst being able to capture noise and reduce overpowering volumes in the workplace.
Acoustic portable partitions offer temporary support and can be easily moved between departments and open plan areas. The supplied castor wheels have a small lock for extra support in busy environments.