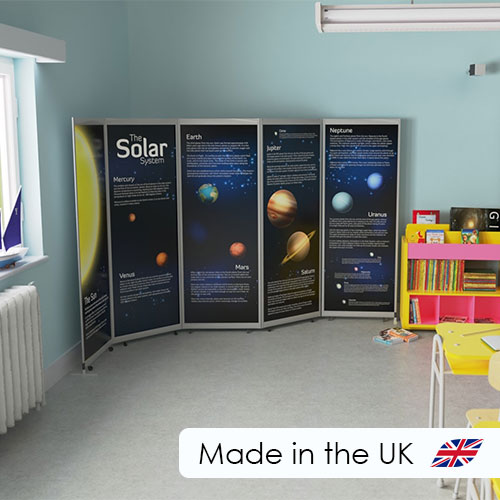 Printed Office Partitions
With the utilisation of printed office partitions, you have the opportunity to create an individual screen, that's made, manufactured and printed just for you. Adding print to an office divider, not only welcomes colour, style and originality but propels your office design into a modern era with forward thinking design.
The wide range of printed office screens showcase a solution for all needs and requirements. Whether you are looking for a portable solution, freestanding screening or a divider suitable for a clinical department - we are confident we have a convenient design.
Use a printed office screen as a continued way to showcase your brand, organisation message or company logo. A multi-purpose office partition which effectively brands, whilst dividing the office and departments providing privacy and increased productivity.


Printed Office Partitions
From freestanding printed office partitions to portable room dividers, we manufacture all screening solutions to ensure there is a design available for your office space. The range of office partitions offer a wide variety of styles which can be adapted to any environment to enhance and improve office design and office layouts.
At Rap Industries, we manufacture all of our printed portable and freestanding office dividers, which allows us to tailor your screen to fulfil your requirement. No matter the shape, size or configuration you require, we are confident we can deliver on quality, price and design. We trust in our products, so each screen comes supplied with a manufacturer's guarantee.
It's important that we have a printed office screen solution for every user. You'll be able to find an array of printed partitions which are suitable for a range of budgets. Create your own screening solution - add your custom artwork, select a frame along with the available accessories. For more help regarding screen sizes and office requirements, please call our team on 01733 394941.