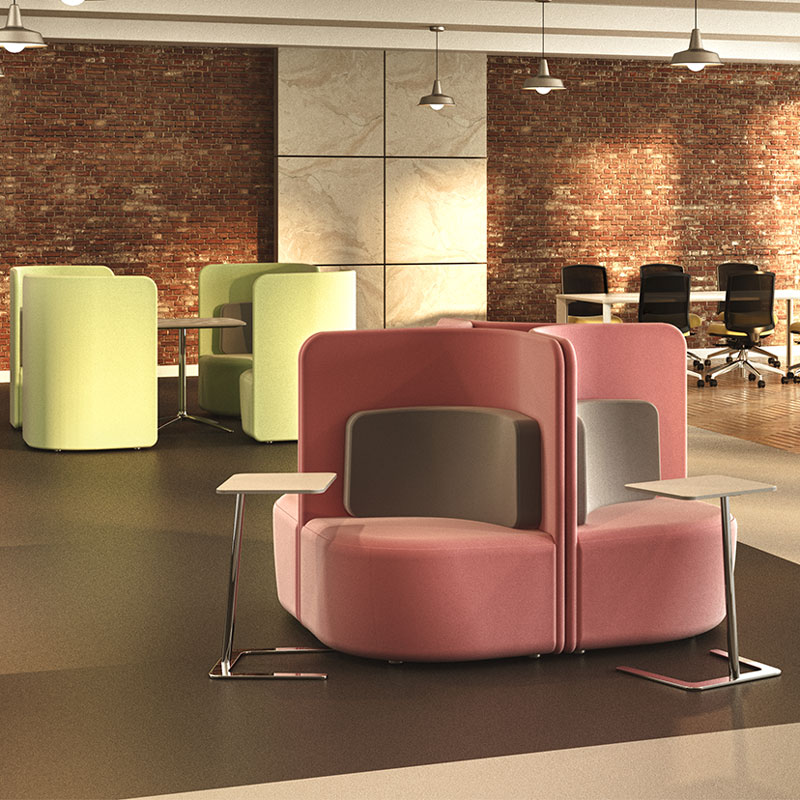 Chairs & Soft Seating
By utilising a range of soft seating, chairs and sofas within your breakout area, you can not only promote relaxtion and comfort but also encourage collaborative, interactive working. With our seating pods and booths you can provide a space of spontaneous meetings as well as planned working.
With a variety of sizes available, whether you're looking for a seating option for 1 or a team of 4, there's a range suitable for you. All our soft seating options are completely manufactured to order, made with your chosen fabric colours and finishes so that you have a custom product that fits with your office design. Being the manufacturer also means we're able to pass on the savings to you, offering a high end product at a great price. 
Looking for something specific or a customised finish? Give us a call on 01733 394941 or email sales@rapind.com, we'd love to help provide the breakout furniture you need!

We offer a wide range of seating and chair options that include:
Height adjustable - for comfort designed to you

Choice of bases - 4 leg, 4 star, 5 star, sled, castors plus many more

Range of base finishes - chrome, black nylon and painted

Two tone fabric options - mix and match your fabric colours

High & Low back options - pick the style that works for you

Wooden outershells available - adds a touch of sophistication

Lumbar support - encourages comfortable seating position

Tension adjustment and weight balance mechanism

Stackable seating available to keep your space tidy

CMHR foam used for moulded seating - additional comfort

Locking positions on desk seating

Options with armrests for well-being

Leather fabric options available upon request
When it comes to office seating, especially regarding desk chairs and meeting room furniture, you don't want to cut costs by opting for a cheap and cheerful solution. It's important to take care of your staff and yourself, by providing a comfortable chair that's stylish and fits within your office aesthetic. At Rap Industries, we have a solution for every budget that will offer you the design and luxury you deserve. We pride ourselves on only offering the highest quality products, all manufactured to order and here in the UK. Our quality is reflected in our prices, making sure that you only recieve the best at manufacturer costs.
Installation
We offer a full installation service wherever you are for an additional cost, speak to one of our installation team today for a dedicated price on 01733 394941.
Warranty
All our chairs and seating options are provided with a 5-year manufacturer's guarantee against fair wear and tear.
Environmental Impact
As a company we try to do our part for the environment and our society in the manufacturing of our products. With our furniture we only work with credible suppliers who use ehtically sourced material and components, and the products are designed to have a high level of end-of-life recyclability. Any redundant furniture is redistributed to chairies and other causes, and unsuitable furniture is broken down to be recycled.