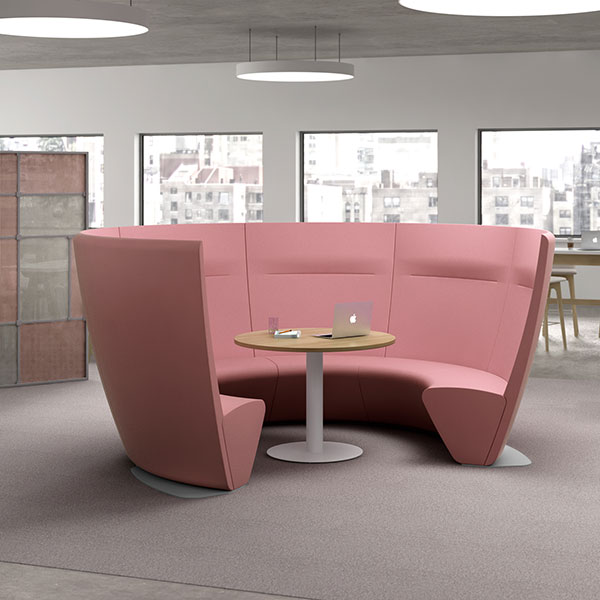 Breakout Area Pods
p>The distinction between what classes as a meeting pod and a breakout area is forever changing, with many companies now choosing to utilise the relaxtion facilities with informal meetings. In many cases a larger, corporate meeting space is still required for board meetings and enteraining important clients, but for those smaller interdepartmental discussions, a seating booth that can double up as a recreational space does the trick.
Not only known for their dual purpose, a Breakout Area pod is often more comfortable than an official meeting room, with soft seating upholstered in your chosen fabric finish. The pods are also more open, with no doors to lock and natural light flowing in.
Breakout Are Pods are also perfect collaborative working spaces, allowing a team the ideal space to get together away from their normal workstations to let their ideas flow. What's more, if you require an emergency space for someone to work on a laptop or tablet, the pods are perfect with their built in tables and often electrics too!
Our Breakout Area Pods are designed with dual purpose in mind; when office space is limited you need a space that will do everything from internal staff discussions, client meetings and provided a breakout space with your employees that is both professional and relaxed.
We know every office needs a Breakout Pod, but here are just some of the reasons why:


Can be used for both breakout area and meetings

Comfortable and contemporary

Less formal, great for catch up meetings

Promotes collaborative working

Provides an additional workspace

Encourages f1exible working

Both professional and cozy space for clients

Main meeting room booked? Provides a 2nd space
Installation
We offer a full installation service wherever you are for an additional cost, speak to one of our installation team today for a dedicated price on 01733 394941.
Warranty
All our Breakout Area Pods are provided with a manufacturer's guarantee although this varies in length depending on the product range. Guarantees are listed on the individual product pages or contact us for more information.