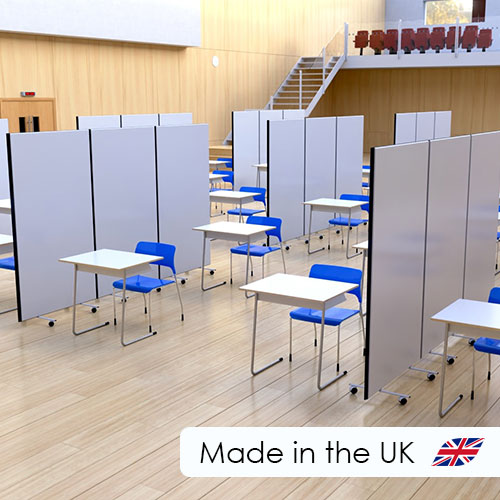 Room Dividers
Room Dividers are designed for quickly and easily dividing open environments. These portable partitions combine a lightweight design with strong and sturdy panels to create a simple system which can be rolled out instantly. They can be customised in a number of ways, including the number of panels as well as the fabric colour to ensure they are able to integrate with the existing aesthetic of your environment.
The portable nature of these room divider screens means they excel in open plan environments such as offices, classrooms, gymnasiums and more. In particular, they can be used to create privacy in areas or completely divide spaces to allow separate activities to take place. The room dividers can be manufactured with a number of different finishes such as laminate panels or printed panels, allowing them to be much more than just a dividing partition.
We design and manufacture all the portable partitions here at Rap Industries and we tailor each order to suit the needs of our clients. This opens up a wealth of options which you can find out more about on the individual item pages, however we are able to create bespoke designs if you have a particular idea in mind. If you have a particular design in mind but you cannot find what you need on our site, then please give our team of advisors a call on 01733 394941 or send an e-mail to [email protected]

Room Dividers
All of our room dividers begin with a strong and sturdy core which provides the foundations for a strong and stable partition. They can then be covered with pinnable boards or a range of other material finishes, depending on what you require. Finally, we add a durable plastic edging which helps to protect the panels from any bumps and ensuring they last for many years to come.
Setting up the portable partitions is remarkably simple. Once the order arrives they can be removed from the box and set upon the included castor wheels. All the panels are already packaged together, so all you need to do is stand the partitions upright and then pull them outwards as you see fit. If you are linking multiple screens together, then additional linking strips are provided. With that all done, your room dividers are ready to be used.
We create our portable partitions to be manufactured with high quality materials. This helps to create a system which is not only extremely effective in open plan environments, but it also helps to extend the life of the product. With all of the room divider screens that we dispatch, there is a five-year manufacturer's guarantee to cover against any manufacturing defects.