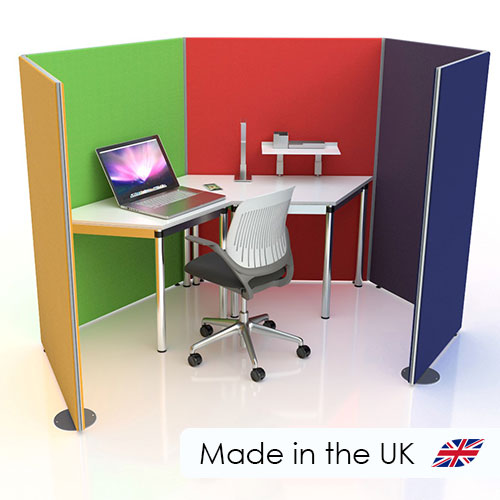 Office Pods and Meeting Rooms
At Rap Industries we've manufactured a selection of office pods and meeting rooms from our wide range of screening to offer you a solution that's effective, stylish and suitable for all budgets. Within our range we've catered for all requirements; from Acoustic Privacy Pods with lockable doors to Individual Work Booths. Having an open plan office has become more popular in businesses, both big and small. That's why we've created a diverse range of pods in different finishes so there's something for everyone.
Not only do our Acoustic Office Pods look good, but they do good too. In many of our Office Pods and Meeting Rooms we use acoustically tested foam, in variations of 12mm and 24mm, to give you a solution that's proven to work in absorbing some of the noise in your office environment, which allows you to work more effectively and without distraction. Whether you need to hold a private meeting or simply block out some of the everyday office noise, there's an Acoustic Office Pod available for you that's easy on the eye and your wallet.
We manufacture our range of Acoustic Office Pods and Meeting Rooms here at Rap Industries, which not only means that we can keep the price down but also there's endless possibilities to the customisation on each pod. From a variety of fabric colourways, clear or frosted acrylic finishes, trim colours, feet options and custom printing, you can design your Office Pod to look exactly as you require. Looking for something bespoke? Give us a call on 01733 39494.

About the Acoustic Office Pods & Meeting Rooms
Our range of acoustic office pods are made with different screens from our extensive office screen range, providing numerous styles and acoustic office pod types. By simply connecting panels together, it's possible to create an office pod to the size you need, along with the addition of window panels and lockable doors for privacy.
Morton, Concept and Budget Office Screens are linkable office screens which all include flexible linking strips to create 90 degree angles. The ability to link the individual screens together ensures the office pod resembles a room and can be used for meetings and private conversations.
We've created a number of Acoustic Office Pods which have been designed to fit into certain floor spaces. However, if you can't find the size you want, we can work with the sizes you have and get as close as possible to create the ideal size.
Adding Acoustic Office Screens to your Office Pod
Acoustic office dividers use effective acoustic foam which absorbs noise from the sound waves in the air, resulting in a noise controlled environment. Acoustic dividers work well for meeting pods and making additional rooms within an open office space. Acrylic panels, team perfectly with acoustic office dividers and offer a break between the fabric panels. Adding clear or frosted Perspex panels adds an openness to the acoustic office pod and isn't completely contained.
As well as the size of the acoustic office pod, you have the choice of plenty of fabric colours to compliment your current office design. Chose 1 colour for the entire acoustic pod or choose a different colour per panel and create a room full of colour and different shades.
Whether you're looking to create an office space, work pod or meeting room, the available options can be used for all these needs. Designs include acrylic, fabric and laminate, the combination of different materials work well together to optimize the space and how effective the office screens can be.
Office pods and work pods maximise the floor space in any open plan space and give that area a new purpose. Furthermore, the adjustable design of each office screen range allows movement in future as the requirements change. You're able to increase and reduce the size or change the shape of the work pod all together, meaning the semi-permanent pod solutions work well in evolving work spaces.