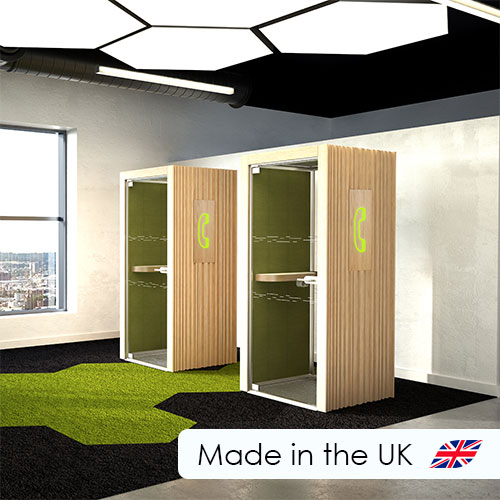 Telephone Pods
There is often need for a private space within offices to take or make confidental telephone calls, and rather than standing out in the corridor you want somewhere that's comfortable and stylish. Our selection of Telephone Pods are ideal for any office or environment, providing a secluded place for conversations where sensitive information may be shared.
Not only do our Telephone Pods provide a comfortable place to make these private calls, but they help to remove the distracting sounds and background noise of the everyday office, making them ideal for conducting telephone interviews or video chats. The Telephone Pods can also double up as small work pods for when you need to work away from interruptions.
We offer different levels in our Telephone Pods, so there's something to suit everyones style and budget. All our Telephone Pods are completely customisable and manufactured to order, with you choosing the fabric colours and finishes on every product.




We've designed a range of Telephone Pods, with both open doors and closed, full glass and half glass, with different levels of acoustics so there's an option for you no matter your budget. Telephone Pods are ideal spacing for:
Making private calls without fear of others overhearing or distracting sounds from the office

Sharing sensitive information

Video conferencing

Comfortable - no need to stand outside or in the corridor

Perfect for Telephone interviews

Doubles up as small work pod
All our Telephone Pods are completely customisable, with various finishes and fabric options available so you can design your booth to sit your office space perfectly. We've created some set configurations to make it easy, but if you'd like to customise these even further contact us on 01733 232000.

Installation
We offer a full installation service wherever you are for an additional cost, speak to one of our installation team today for a dedicated price on 01733 394941.
Warranty
All our telephone pods are provided with a manufacturer's guarantee although this varies in length depending on the product range. Guarantees are listed on the individual product pages or contact us for more information.