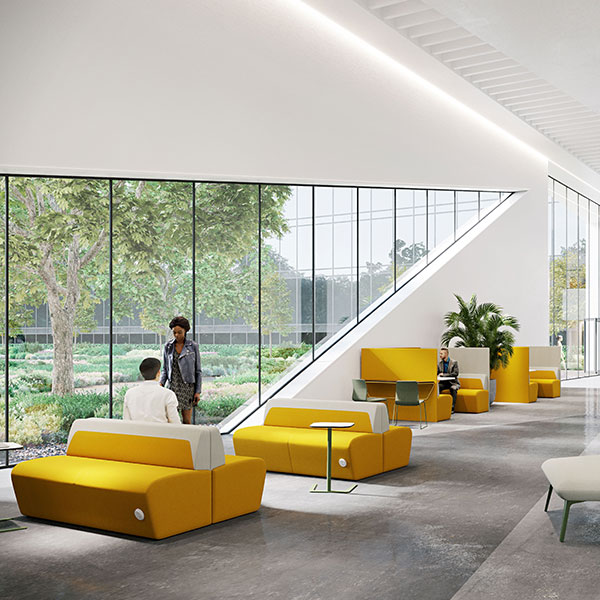 Office Collaboration Furniture
There is often need within any business for teams to work collaboratively without affecting the efficiency of other employees. That's where our Collaboration Furniture comes in. We've designed the products within this range to keep the team members that need to work together within close proximity of each other, whilst still providing them with their own personal workspace. This in turn improves the time in motion by allowing those who communicate daily close together.
The Office Collaboration Furniture range includes options for both private and semi-private working depending on what is required, with these spaces doubling up as spaces suitable for meetings with clients.
Our range is designed to encourage businesses to work collaboratively together, sharing ideas and their creativity, with unique styles and design all manufactured to order for you with your chosen fabrics and finishes.
Office Collaboration Furniture is the perfect way to promote creativity and provide a space for employees where they feel comfortable, while able to complete their job efficiently. Here are some of the many reasons you should implement Office Collaboration Furniture into your business:
Encourages collaboration with teams and departments

Keeps teams working together in close proximity - improves effeciency

Provides either a private or semi-private space for working

Another space to hold meetings with clients that looks professional

Many option double up as breakout furniture

Great for interdepartmental meetings

Comfortable space - makes more relaxed and approachable

Designed to keep teams together while providing personal space

Large meeting spaces spaces to encourage idea sharing and creativity
Installation
We offer a full installation service wherever you are for an additional cost, speak to one of our installation team today for a dedicated price on 01733 394941.
Warranty
All our Office Collaboration Furniture is provided with a manufacturer's guarantee although this varies in length depending on the product range. Guarantees are listed on the individual product pages or contact us for more information.