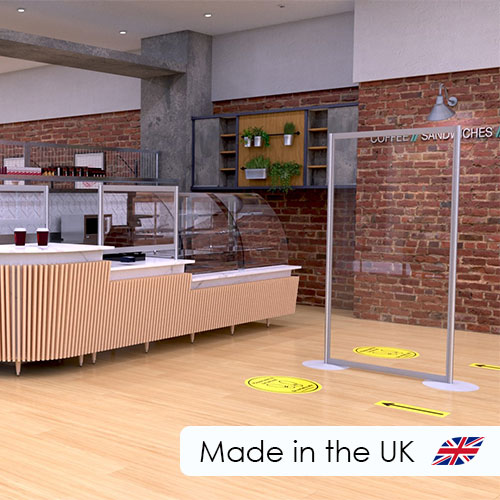 Next Day Office Screens
Our Next Day Office Screens contain a range of different partition screens and desktop dividers which are available for immediate dispatch. These are manufactured in set sizes beforehand, providing a rapid solution when you require a partition screens in a hurry. Below you can find next day office screens, desktop screens and even portable room dividers. When you order before 11am, we can dispatch within 24 hours to ensure you have the partitions you need as quick as possible.
Throughout the available Next Day Office Partitions you'll be able to find finishes in Medici or Electric blue fabric, along with easy clean finish such as white gloss laminates and acrylic. The selected products which we have available for the instant dispatch are still made by Rap Industries and use the same high quality materials you'd expect from the rest of our product range.
Available as freestanding, portable and desktop divider, you'll be able to find the right solution and have this with you in matter of days. If you're unable to find the right colour or size, we do have a wider selection of colours, however the lead time will differ slightly as we make all other sizes and colours to order.
The wide range of finishes for the next day office privacy screens means there's a screening solution for different environments and business sectors. Utilise the panels and partitions to maximise space and optimise your surroundings.
For more information, contact our sales team on 01733 394941 or email us on sales@rapind.com.

More details about our Next Day Partition Screens
Next Day Office Partitions are tailored for use in a variety of different environments. The available stock sizes and styles make it possible to divide open space and add privacy, where it's lacking. Our design focus is based on creating products which are easy to use, which is why as soon as the partition screens arrive, they can be set up for us in a matter of minutes.
We manufacture the in-stock office partitions using high-quality materials to ensure they are sturdy but also extremely lightweight. This is particularly useful with the room dividers as they are safe and secure when in use but can also be quickly set up when required. As is standard with all of the products that we create, there is a manufacturer's guarantee included.
If you're in need of partition dividers in a hurry, the In stock partition screen options are just what you need. Order before 11am and we can dispatch within 24 hours and delivered on a standard or next working day delivery service.
What's available as part of the Next Day Office Partitions?
The Mobi portable room divider is available in an electric blue loop nylon fabric and a white gloss laminate easy clean finish. Loop nylon fabric is compatible with hook tape and enables the attachment of notices and posters, creating a divider which also displays. White gloss laminate is a multi purpose material that has been popular in the medical sector due to the easy clean properties and also accepts dry wipe pens as an alternative to a whiteboard.
If office noise has become too distracting, the Budget Acoustic Office Screen will add extra support and assist with noise reduction. 12mm acoustic foam covers both sides of the solid core and creates a noise barrier between open plan areas and results in a more comfortable workspace. Supplied with trip and wheelchair friendly feet for full stability and flexible linking strips to connect multiple office partitions together.
For those open spaces where division is needed but privacy isn't required, clear acrylic partitions work effectively. Freestanding partitions and desktop dividers can be added to a space without blocking light and the minimalist design ensures they fit with all office designs. Easy to clean, provides full visibility and creates a protected working environment.