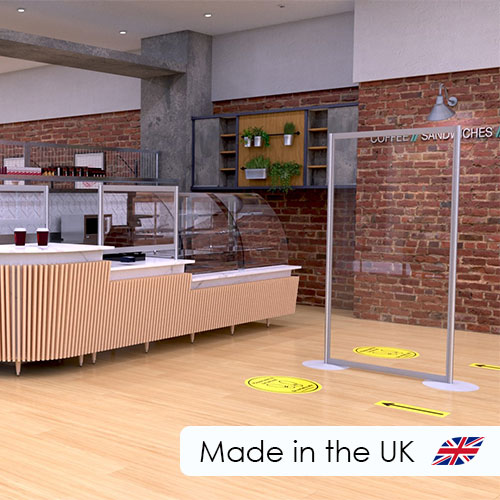 Next Day Office Screens
Our next day office screens contain a range of different partition and desktop screens which are available for immediate dispatch. These are manufactured in set sizes beforehand, providing a rapid solution when you require a partition screen in a hurry. Below you can find next day office screens, desktop screens and even portable room dividers. When you order before 11am, we will even guarantee to have your order with you by the next day.
Both the office screens and desktop screens are manufactured in a Medici blue colour, meanwhile the portable room dividers have been produced in Claret. If you are looking for a more personalised solution, then we have additional options available here and we do provide express delivery if you need your order in a rush. All of our next day office partitions are manufactured in good time here at Rap Industries, so there is a manufacturer's guarantee included with every order.




Next Day Partition Screens
Next day office screens are tailored for use in a variety of different environments. Their stock size and style makes them an effective addition in many open plan environments where privacy is lacking. Our design focus is based on creating products which are easy to use, which is why as soon as the partition screens arrive, they can be set up in a matter of a just a few minutes.
We manufacture the in-stock office partitions using high-quality materials to ensure they are sturdy but also extremely lightweight. This is particularly useful with the room dividers as they are safe and secure when in use but can also be quickly set up when required. As is standard with all of the products that we create, there is a manufacturer's guarantee included.
All of the products you can find here are manufactured under strict guidelines; so if you have something a bit more personalised in mind, then we have a range of other options across the site. Or if you would prefer, you can give our team of advisors a call and discuss the ideas that you have. They can be reached either by calling 01733 394941 or by sending an e-mail to [email protected].