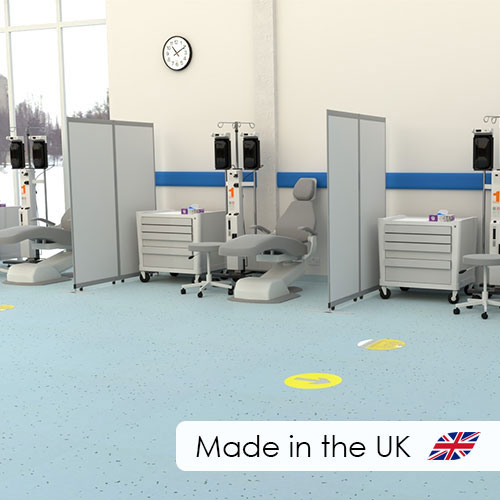 Medical Screens
Medical Screens combine a practical partition screen design with an easy clean or anti-bacterial finish. Any screening added into a hospital or healthcare environment should be easy to clear and sterilise to eliminate any harmful bacteria. Our medical privacy partition screens are available in a variety of different designs including mobile medical screens, enabling the environment to adapt and change depending on your requirements.
Finishes for the healthcare environment include white gloss laminate, anti-bacterial fabric and acrylic. Each material and partition style brings a different benefit and all elements can be used in a reception, ward or treatment room.
White gloss laminate is an easy clean material, which can be sanitized with anti-bacterial sprays, but also converts into a white board, as the laminate accepts dry wipe pens. For a bright and bold approach to germ control, the anti-bacterial fabric is treated with a sanitised technology and fights back against bacteria without the use of sprays and cleaning solutions.
Each Medical Partition Screen will be bespoke manufactured, which means it will be unique to your environment. The customisation options include the panel size, fabric colour as well as a host of accessories which can help to ensure they excel in your environment. We design each component of the Medical Privacy Partition Screens to ensure they are incredibly easy to use and the simple set-up design ensures they can be deployed quickly and effortlessly.