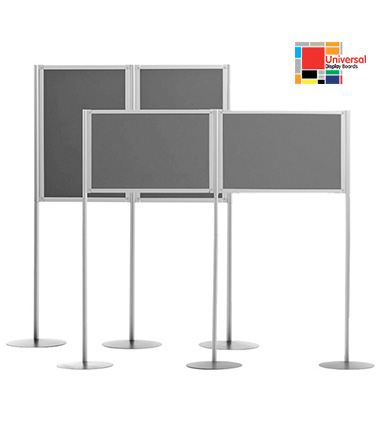 The A0 Display Boards feature a tailored design which makes them the ideal platform for posters, pamphlets and artwork. With aluminium poles and an intuitively designed core, the panel and pole display boards are lightweight yet sturdy, which ensures they are ideal when travelling to events while also reliable once they are set up and in use. The simple design also ensures that they can be set up and packed away in just a few minutes.
Our A0 display boards are manufactured using high quality materials which contributes to a strong and sturdy display system. Each aluminium pole is completed with stabilising feet at the end which ensures they excel while in use in environments with a moderate amount of footfall. In particular, these display boards are tailored for exhibitions, trade shows, craft fayres and presentations.
Each of the panel and pole display boards is made bespoke, which means that each is personalised to suit the needs of the client. From the size to the fabric colour, we provide a variety of ways in which to customise the A0 display boards to adapt to your content as well as the space which you have available. If you have a unique idea in mind but are unsure which display system would be best for you, then please give us a call on 01733 394941 or send an e-mail to sales@rapind.com.