Streamline Display Stands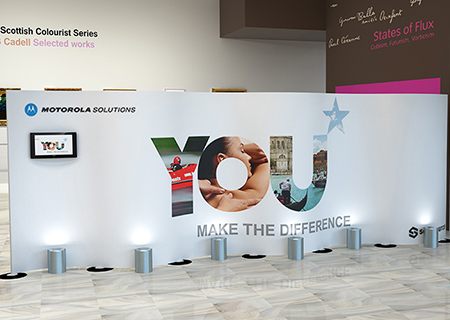 The modern-day nature of exhibitions and trade shows mean that display stands are adapting to be more flexible and completely versatile. The Streamline exhibition stand epitomises this with a free-flowing design which allows them to be set up in any way desired, whether this is as a straight, curved, waved or even fully cylindrical design. The graphic panels are created using a Stoplight film which allows them to ebb and flow to meet the needs of the exhibition stand design.
Our Streamline display stands feature an intuitive design which sees each metre-long stretch separated into individual panels. This not only helps when setting up and packing away the display stand, but it also means the Streamline is able to adapt to different stall spaces. For example, while it can be used to full effect with a 4x2m space for one exhibition, it can then easily adapt to a 2x2m space at the next.
We print the graphic panels onto a 350-micron Stoplight film which is incredibly durable, and this ensures it is easy to flex into a variety of different shapes. The panels are then covered with a 125-micron laminate which will protect it against nicks and scratches, guaranteeing an eye-catching finish for longer. The design, manufacturing, and printing of the Streamline exhibition stand all takes place here at Rap Industries where we take pride in creating fantastic exhibition equipment which is designed to last. As such, there is a ten-year manufacturer's guarantee included all of the Streamline display stands that we produce.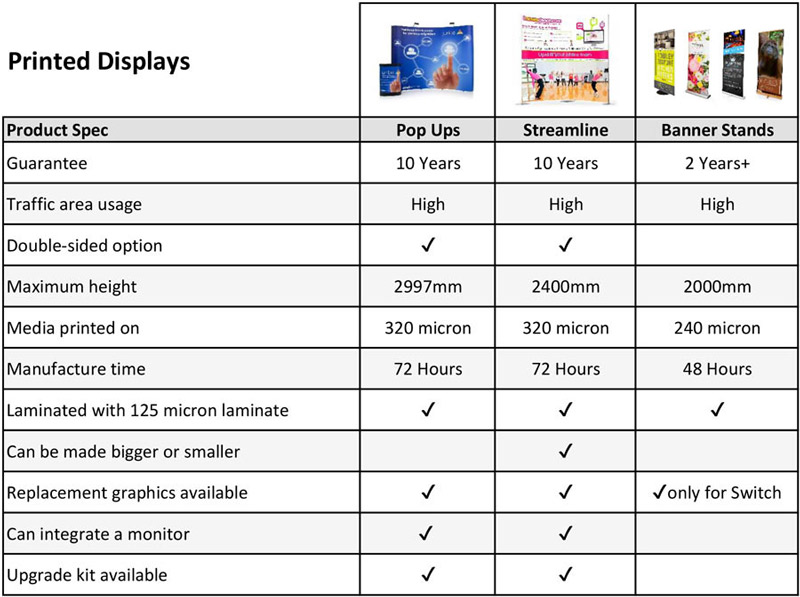 Streamline Display Stands from Rap Industries
The design of the Streamline display stand revolves around the needs of exhibitors in order to create a solution which is designed to last for many events to come. As well as the interchangeable panels, we also provide a graphic replacement service. So even if your branding needs refreshing, there is no need to purchase a completely new stand. Instead, it is affordable to simply update the design with new panels.
In terms of accessories, we offer the Sterling roller banner as well as various leaflet dispensers to help enhance the branding effort of your display stand. These also feature the portable framework which is integrated with the streamline. With all the products included in the Streamline display stand bundles, each is easy to set up, pack away as well as transport to different events.
At Rap Industries, we take pride in the fact that we use high quality materials throughout the manufacturing process. This is helped by the fact that we can cut out the middleman and pass the best possible price on to our clients. For example, the poles of the Streamline display stands are produced from aluminium while the panels are created with a Stoplight film which is extremely resistant to tears and scratches.
Graphic Design at Rap Industries
Eye-catching graphic design is at the heart of every great exhibition stand and yours will be no different. Using a high-quality pigment-based ink with advanced printing technology allows us to print your graphics in a high resolution, creating a rich and vivid finish. All the graphics are then laminated to help protect the panels from any nicks and scratches while in use.
If you are struggling with a design, then a bundle graphic design option is available with the Streamline display stand bundles. Opting for this will put you in touch with one of our expert graphic designers who will design and develop the graphics for you. As part of the bundle package, this covers all elements within the bundle which are eligible for graphic design work (includes Streamline display stand and Sterling banner stand).
Bespoke graphic design combines your ideas with the expertise of our designers. Through this, you can work with them by providing your input to help craft and mold a few designs which you can then choose from. All we require is a logo and a few images and then we can do the rest. If you wish to find out more about our graphic design service, then either give us a call on 01733 394941 or send an e-mail to [email protected]