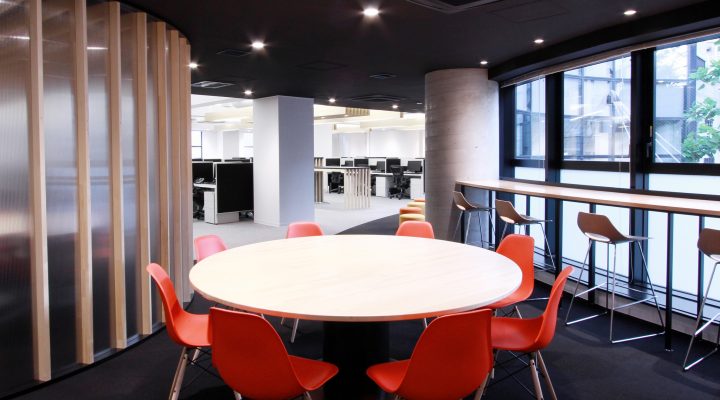 Using Office Furniture to Respond to Evolving Ways of Working
The way that we work is constantly revolutionised by advancements in technology and changes in human habit. How we work compared to say, 20 years ago, has developed considerably. Back then, computers were installed in just a few offices. Now, the desktop is slowly becoming obsolete. With wireless technology and the Internet of Things, many office workers do not even need to be sat at their desk. Remote working is on the rise for several reasons, which is why the office is increasingly being forced to adapt to the changing requirements of workers.
Just because working from home can be more convenient does not mean that it is the most effective way available. The main advantage of staying in the house is the comfort it provides. No distractions, refreshments within 100 metres and pleasant surroundings. Environments such as these will help with concentration levels, enabling workers to produce more effective work. However, a key drawback is a lack of connection with the business. Barring video calls, the worker has no face-to-face contact with co-workers and the opportunity for collaboration is severely reduced. So, on a core level, the future of office furniture needs to create something which is comfortable and situated at the headquarters of the business, while incorporating collaborative spaces into the design.
Using Big Data to Peer into the Future
In the past, office design has been based on this idealised vision we have of how our offices should work. With a pair of rose tinted glasses, designers saw workers happily working away in their pods. However, this severely overlooks privacy concerns, lack of physical activity, and distractions from others working in close proximity.The resulting health issues, both mental and physical are well documented. This is why leading manufacturers are now collaborating with research institutes to get to the core of what should be prioritised in an effective office design. The aim is to create solutions which are moulded around how people really behave.
This means creating environments which are genuinely comfortable. Spaces which are completely free from distractions. A common misconception is that the working playgrounds of Google and Facebook are the future. While they may work for the coders and creative minds of those businesses, the same cannot be said for other fields of work. Some tasks require a more individualistic approach while larger group projects will need a larger, contained space.
Using Office Furniture to Make the Office Comfortable and Enjoyable
As discussed earlier, one of the key factors holding back office design and a host of businesses is being unable to make it an attractive proposition to employees. Not only does this affect their happiness, but it also influences the chances of retaining that member of staff. Many factors now need to be considered when hiring employees, otherwise, there is the risk they may join a competitor. Combined with a daily commute, creating a setting which is better than the comfort of their own home is a considerable challenge.
10 years ago, considerations such as privacy and comfort were only just being introduced to the design of office furniture. We began to see ergonomic chairs, wrist rests, monitors with varying heights, and much more. These addressed some of the more apparent physical health issues. However, they did very little to touch upon the mental strain which the office can have. The University of California established that humans can on average only concentrate for 4-5 hours a day before becoming exhausted. In fact, office workers were reported to become distracted every 3 minutes and it often takes another 23 minutes to regain full flow.
The solution is to create dynamic office furniture which allows different tasks to be completed in various environments. Rather than a static desk, workers are being equipped with a laptop and then given the freedom to pick out an environment which suits them. Need to concentrate? Individual acoustic booths provide the perfect escape from the rest of the office. Require the input of a colleague? Larger acoustic office pods are excellent for enabling collaborative activities without disrupting the remainder of the office.
Creating Privacy Within Open Plan Offices
The 'cubicle farm' which became the staple of most offices worldwide is finally being phased out. To address growing concerns about privacy, workers are being given greater freedom in the office to decide where they work. This has led to innovative new designs which adopt the features of an acoustic pod and integrate them into a succinct and individual pod. Equipped with acoustic screens, this cuts down on both visual and audible distractions. The result is a private workstation which makes the most of the space which is available.
The combination of collaborative pods and individual pods provides complete freedom for workers to pick out the best environment for the work they are doing. Including acoustic foam into the panels as well as the walls is effective at absorbing sound waves. This dampens the ambient background noise of every office, making it a more peaceful environment to work in. These then include ergonomic seating while providing consideration for other physical problems than can arise from sitting in an office for 8 hours and more a day.
Rap Industries designs and manufactures bespoke office partitioning and acoustic pods for clients from a variety of industries. Established over 40 years ago, our designs are inspired by the needs and requirements of our clients. To find out more about how we can enhance your office, please get in touch. You can either call 01733 394941 or send an e-mail to sales@rapind.com.