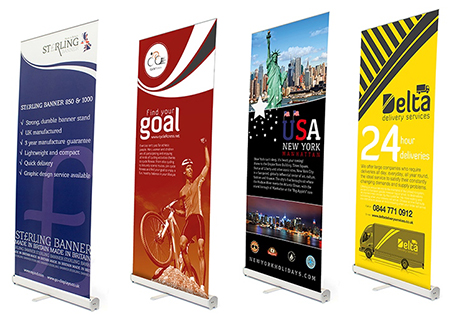 Roller banners are a versatile display stand which is well known for being extremely adaptable when it comes to a business' marketing. While larger display stands are restricted by space, pop up banners are able to set up in pretty much any indoor environment. On top of this, all of the banners that you will find below feature a lightweight design, which means they are convenient to carry, which helps especially when you are presenting on your own.
We design, manufacture, and print every roller banner here at Rap Industries and each is made bespoke to meet the client's needs. There are various styles, sizes & finishes and each is tailored to suit a variety of situations. For example, the Switch banner stand features interchangeable panels, which allow the panels to be switched out when you need a new graphic.
Every pop up banner is manufactured using high-quality materials, which guarantees that the final product is robust and built to be taken to various events in the future. For example, the Sterling roller banners feature an aluminium base which is a lightweight yet sturdy material which ensures it is easy to carry but is also strong and stable. If you have a unique idea in mind, then you can get in contact with our team of advisors to discuss your ideas. They can be reached by calling 01733 394941 or by sending an e-mail to [email protected]


Why Buy Roller Banners from Rap Industries?
The main feature of the roller banner is the graphics panel which takes pride of place at the centre. All the pop up banners that we produce use a 240-micron Stoplight film which is where your graphics will be printed onto. This material is ideal for the panel as it is extremely durable and resilient, but also accommodates quality inks during the printing process which guarantees a fantastic finish.
As we produce all the panels here at Rap Industries, we are committed to creating a fantastic banner which is ready to use as soon as it arrives. As such, we exclusively use high-quality pigment-based ink during this print process. This solution creates a rich and vivid image, bringing out the best in your graphic design work. To finish things off, a laminate layer is added, protecting the graphics against nicks and scratches.
One of the areas where roller banners excel over other exhibition stands is their portability, which allows them to be used at exhibitions, trade shows, meetings and even presentations. As well as the lightweight base, we also supply a fabric carry bag with all our pop up banners, which helps to protect it in transit. This bag is equipped with a shoulder strap, taking away some of the toils of traveling with an exhibition stand.
Need Help Designing Your Roller Banner?
The factor which will really help any roller banner to stand out is the graphic design. We welcome any of our clients to send in any artwork they have already, however, we do have our own graphic design service where this can be taken care of for you. Our graphic designers have extensive experience working with exhibition stands of various sizes and varying degrees of difficulty, so you can rest assured that your pop up banner is in a safe pair of hands.

As part of this graphic design service, you can opt for a bespoke graphic design where our designers will create the graphics from scratch. You can even provide your input throughout this process to ensure that the final product is everything that you imagine. If you have any images you would like to be used, then our designers would be more than happy to accommodate them.

Alternatively, we do also provide a template service for the roller banners. This offers a more cost-effective option but still guarantees a great finish. With this service, you can pick out a template design from the selection available. Then, all that is required is some text, a few images and a company logo from yourself, then our graphic designers can do the rest. If you would like to find out more about the services that we provide, then you can either give us a call 01733 394941 or send an e-mail to [email protected]