Pinnable Table Top Displays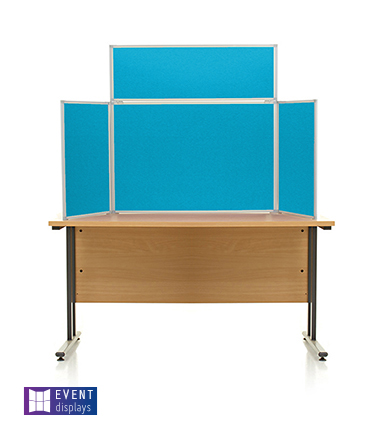 The pinnable table top display boards are an adaptable display system which can be customised with a huge range of vibrant fabric colours. In this section, we feature the two and three panel table top display boards which can be personalised with headers, fabric carry bags and even a landscape central panel. These are specifically designed to be straightforward to use, making them especially effective as a permanent display or when used whilst travelling to different events.
When creating the pinnable table top display boards, we focused on developing a display system which modernised the traditional pinnable display board. Having previously held a reputation for being bland and heavy, we have updated the design to meet the needs of our clients today. This has meant manufacturing display boards which are light and easy to use, yet continue to be robust while in use.
The pinnable table top display boards are manufactured bespoke at our factory based in Peterborough, Cambridgeshire. This allows each display system to be tailored to suit you, with different fabric colours and a range of accessories available. If you have something unique in mind for your display boards and are struggling to find what you need on our site, then please get in touch with our advisors who will be able to help. To do so, please call 01733 394941 or send an e-mail to sales@rapind.com.