Loop Nylon Table Top Displays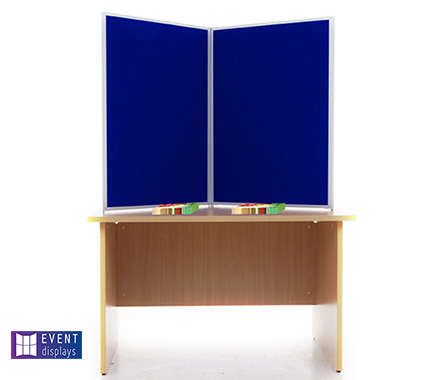 Loop nylon able top display boards are designed to be effortless to use while providing an effective and professional foundation for your content. With a variety of different styles and designs available, these can be customised to promote your brand or to help your material to stand out. The loop nylon table top display boards are available with two or three panels which can feature a landscape central panel.
Individually manufactured in house, the loop nylon table top display boards are constructed using high quality materials which combine a robust core with lightweight panels. The result is desktop displays which are simple to use, easy to transport and sturdy while in use. Folding panels are a key feature of the design as they allow the display boards to be neatly packed away when not in use.
All the loop nylon display boards featured down below can be upholstered with a wide range of different fabric colours, which allows them to be customised precisely to integrate with your display. As the manufacturers of these displays, we are committed to creating a fantastic finish every time, which is why we include a five-year manufacturer's guarantee with all the table top display boards that we produce.