Easy Clean Table Top Displays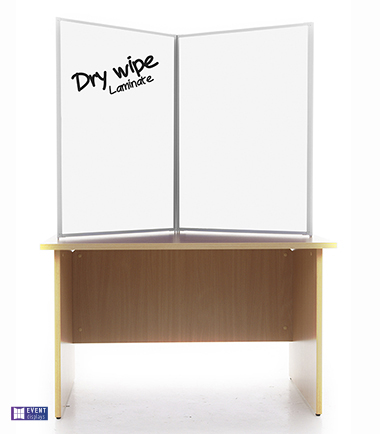 The easy clean table top display boards integrate a drywipe laminate which means that whiteboards are no longer restricted to being wall-mounted. By adapting the finish of the table top display boards, this display system features a flexible and lightweight design which enables it be used in any environment where you have a table on hand. From schools to events, the drywipe surface can be completely customised using drywipe pens.
The white gloss high pressure laminate surface adds a smooth and sleek finish which provides a clean backdrop for your display. The fact that the laminate can be customised before and during a presentation makes it extremely adaptable to meet your needs. As the panel is created from a sturdy material, this ensures it is robust, especially when being written onto whilst set up.
All the easy clean table top display boards are made to order here at Rap Industries, which means that each can be tailored to meet the needs of your display. Whether you require two or three panels, a deluxe fabric carry bag, a header panel or even a central landscape panel, we can help to create a system which is as effective as possible for your display. For further bespoke options, which you cannot find on the site, please get in touch by calling 01733 394941 or send an e-mail to sales@rapind.com.