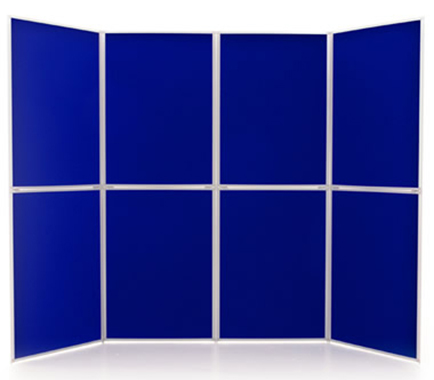 The 8 panel folding display boards create a large amount of exhibiting space without lumbering you with huge, heavy display panels. The display boards from Rap Industries introduce an intuitive design which creates a remarkably lightweight panel which is still sturdy and robust. There are a variety of designs available, including our instant-ship folding display boards and the Event+ portable display boards.
We create the 8 panel folding display boards using materials which are designed for use indoors. The lightweight yet sturdy design allows the display boards to be simply transported with you if you are travelling to events such as exhibitions, trade shows, shopping centre displays and more. As part of our accessories, there is a padded carry bag which is perfect for helping to carry the display.
We design and manufacture each of the school display board at our premises in Peterborough, Cambridgeshire. From concept to conclusion, we tailor the display boards to meet the demands of our clients. Therefore, this gives you control over a range of factors such as the fabric colour, materials used and whether you include any accessories.