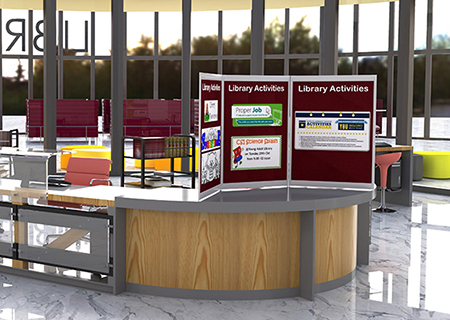 Display Boards are available in a variety of shapes and sizes with each retaining familiar lightweight panels and a high quality design. From portable folding display boards to table top display boards, we design and manufacture a selection of display stands which are tweaked and tested to meet the needs of the client. Many of the display boards feature our Event loop nylon fabric which allows content to be applied without damaging the integrity of the panel itself.
The lightweight nature of the display boards combined with the sturdy panels and loop nylon fabric mean that content can be displayed in pretty much any indoor environment. Exhibitions, art shows, trade shows, shopping centre displays and many more; if you are looking to promote your content, then a folding display board provides the perfect platform to do so. There are also a variety of accessories available to help your display to shine out from the crowd.
All the display boards found below are designed and manufactured by Rap Industries, who are based in Peterborough, Cambridgeshire. Each category features systems with a varying number of panels and we are able to create bespoke displays on request. If you are looking for a unique system, or you would like to find out more about what the display boards have to offer, then please feel free to get in touch by calling 01733 394941 or send an e-mail to [email protected]
Why Buy Display Boards from Rap Industries?
As we design and manufacture all the display boards on site, that has allowed us to refine the process to ensure we are creating high quality school display boards at the best possible price. One of the ways we achieve this is to create a lightweight core which is then compressed to create a sturdy panel which is also simple to transport. Each display board is then covered with the loop nylon fabric in the colour of your choice and they are then finished with a sleek aluminium frame.
When you are heading to an exhibition, the last thing you want to be worrying about is how your display system sets up, which is why we have created an intuitive design which means each folding display board can be set up in a matter of seconds. Many of the panels simply click together and can be set up in 5 minutes, making the whole process as stress-free as possible and allowing you to focus on the display itself.
To add those final finishing touches, we provide a selection of accessories for your display board such as printed posters and Foamex boards which are great for adding further quality touches to your display. Alternatively, we also produce display plinths which can be a unique way of adding another dimension to your display and ultimately helping to draw attention to what really matters, your content.