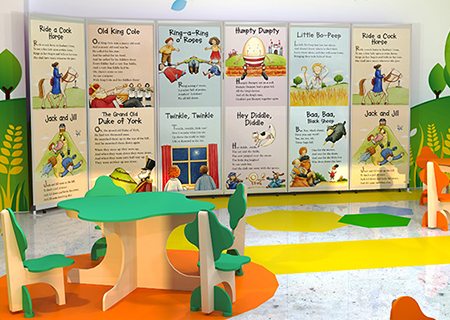 Printed display stands are a unique alternative to conventional partition screens and display stands. Using advanced printing technology, we can print bespoke graphic design onto a variety of different products including Flexi screens, Morton partition screens, Event folding display boards and much more. The benefit is a bespoke finish, featuring your branding, products or services on a high-quality backdrop, ideal for grabbing the attention of your target audience.
We design, manufacture, and print all the printed display stands listed below at our site based in Peterborough, Cambridgeshire. Each is produced with high-quality products throughout the process to create systems which are extremely lightweight and sturdy, but also have a fantastic finish which brings out the best in the graphic design. Many of the products can be customised in a variety of ways, with different sizes, accessories, and finishes available.
Many of our printed display stands can be utilised in a wide variety of settings such as exhibitions, trade shows, and shopping centre displays. However, as each can be made bespoke to suit your needs, this means we can create unique printed displays which are tailored to your specific requirements. To discuss this further, please get in touch with our team of advisors who can provide bespoke advice. To do so, please call 01733 394941 or send an e-mail to [email protected]
Why Buy Printed Display Stands at Rap Industries?
As manufacturers of the printed display stands, this provides us with the unique ability to tailor our products so that they adapt to the needs of our clients. Therefore, we focus on creating high-quality displays which take into consideration conditions such as where they will be used and the logistics of getting them there. Also, by manufacturing each of the products ourselves, we can then cut out the middleman, passing on the savings to our customers.
As the printed side of these display stands is the main feature, we take care of the printing process ourselves in order to guarantee a fantastic finish. With advanced printing technology in-house, we are able to print high-quality designs onto a huge range of different materials. During this process, we exclusively use high-quality, pigment-based inks which guarantee a rich and vivid finish.
Throughout the manufacturing process, we conduct extensive checks to ensure each product meets the standards we expect. This also guarantees that once the printed display stands arrive, they are all set and ready to be used. As such, we provide a manufacturer's guarantee with all of the printed displays that we produce and dispatch.
Need Help Designing Printed Display Stands?
Graphic design is at the heart of all of the printed display stands that we produce and as such, creating a fantastic design first will guarantee a fantastic finish when printed onto the display stand. If you are producing this yourself, then all that is required is to re-size it in order to fit our artwork specifications, then the printed displays are ready to be manufactured. However, if you do not have any artwork on hand, then our graphic design service is here to help.
With a team of experienced graphic designers working in-house, we are able to design and develop bespoke graphic design. This is tailored based on your ideas and you can have your say throughout the process so that the finish meets your expectations. Through this, you can integrate a company logo, images and text which you wish to be included with the printed display stands.
Alternatively, if you are not looking for a complex design, then with some of the printed displays, we have a selection of templates available to choose from. These provide the basic framework for the graphic design and then all we require is a company logo, a few images, and the text in order to create the design. For more information on our graphic design service, please call 01733 394941 or send an e-mail to [email protected]