Pop up stands are renowned for being accessible to exhibitors both experienced and new to the industry. This is due to their flexible design which makes them easy to use, simple to transport and effective while in use. With pop up display bundles, we take that one step further, by incorporating display elements to help give your stand the edge and to help deliver a return on your investment.
While a pop up stand can provide an attractive backdrop, this can require a couple of extra elements to help attract prospective clients towards your exhibition stand. Promotional counters, when used with presentations and demonstrations, are one ideal way of exhibiting the products and services which you provide. To finish things off, the Storm leaflet dispenser adds a stylish tool which helps to get your promotional content into the hands of people walking past your stand.
All the products which you will find with the pop up display bundles feature the option of graphic design. The design itself, as well as the manufacturing and printing of the pop up displays, takes place here at Rap Industries. Due to this, we introduce high-quality materials throughout the production process in order to create eye-catching exhibition stands which are tailored to each individual client.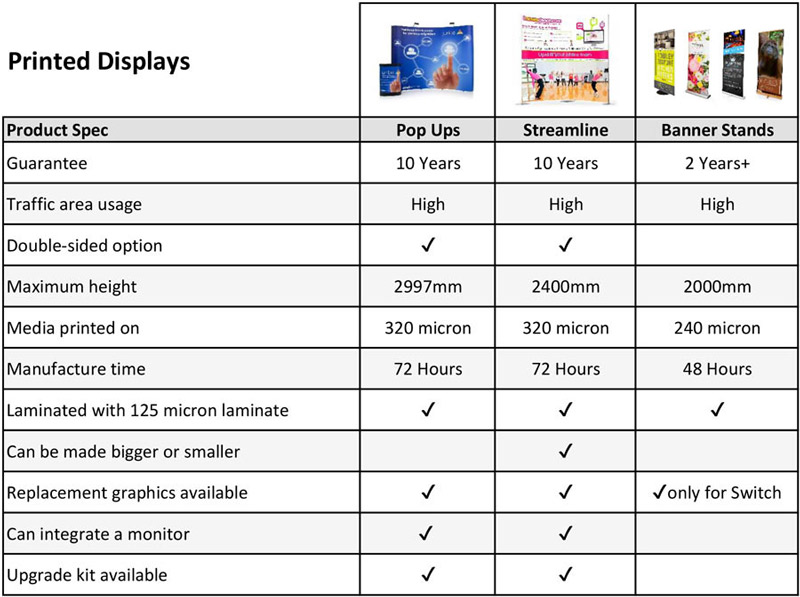 Pop Up Display Bundles from Rap Industries
The design of the pop up stand make look complex initially, but in reality, this design is tailored towards making an exhibition stand which is accessible to all. Rather than large, heavy displays which require a separate team just to transport, a pop up stand can be packed away into a simple, wheeled storage case. So, when you are preparing for an event, you can worry about your pitch and promoting your brand, rather than fretting over the logistics of transporting your exhibition stand.
With the pop up display bundles, we intend on introducing a variety of display tools which can help to give your pop up stand the edge. These are tailored so that you can make the most of the smallest or the largest exhibition space, especially with a range of accessories which are designed to help promote your brand, products and services.
In the pop up stand bundles featured below, you will be able to find a selection of sets which are tailored for a variety of exhibition stand spaces. All the stands are equipped with our Deluxe upgrade kit, which includes display spotlights as well as a graphic wrap and acrylic top which enable the wheeled storage case to be transformed into a stylish promotional counter. If you have a design in mind but cannot find it down below, then please get in touch with one of our advisors who will be able to help. Simply call, 01733 394941 or send an e-mail to [email protected].
Graphic Design at Rap Industries
Every great exhibition stand is secured with stunning graphic design work which should be your main concern after picking out the right design. All the components included with the pop up stand bundles feature graphic design which is always printed here at Rap Industries. So, you have the choice of either sending in your own graphic design, or utilising our graphic design service where one of our experienced designers will take care of things for you.
If you have your own design on hand, then all that is required is to re-size it to fit with our artwork guidelines. Alternatively, if you still need help, then you can choose to include our bundle graphic design service option with your order. After confirming payment, one of our designers will be in touch to explore some of your ideas and to begin developing your bespoke graphic design.
Every graphic is printed onto Stoplight film using high-quality pigment-based ink, which is ideal for bring out the vivid colours and intricate textures of your design. Finally, every panel is then laminated using a 125-micron laminate, which helps to protect your pop up display bundle from any nicks and scratches while they are in use. If you would like any further information on our graphic design service, then you can either give us a call on 01733 394941 or send an e-mail to [email protected].