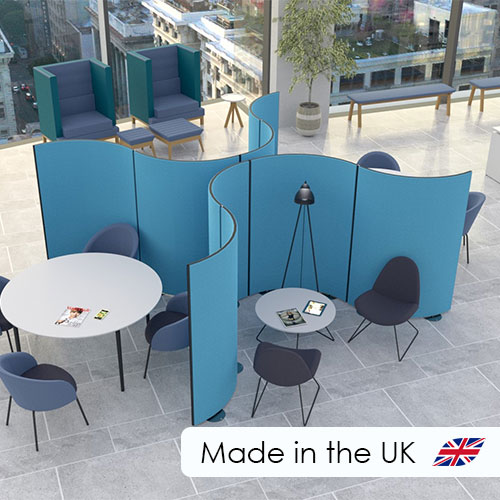 Pinnable Office Screens
The pinnable office screens are a simple yet effective measure for creating privacy in open plan environments. We manufacture a number of different designs and each can be tailored in order to adapt to the space which you have available. These office partitions are ideal in busy offices, classrooms and other indoor environments where distractions are becoming an increasing issue.
The pinnable office screens are manufactured in a variety of different sizes and can be customised to suit your layout. This includes desk dividers and office screens which can provide various levels of privacy by dividing the open space. These are available as flat screens, curved screens and even wave top screens, so there are a number of options available in order to customise your environment.
Production of the pinnable office partitions is handled here at Rap Industries. As manufacturers of office furniture, we have extensive experience designing and then producing screens which help offices and classrooms to be more productive workspaces. Each component is produced using high quality materials to ensure the finished product is of a fantastic standard.


Pinnable Office Screens from Rap Industries
The pinnable office screens are manufactured using a lightweight yet sturdy internal core. This features an intuitive design which ensures the screens are strong and stable when in use, but can still be easily moved if required. The partition screens are then covered with a quality fabric which is supported by a pinnable board, therefore allowing the screens to be customised with content through the use of pins.
As each screen is made to order, that means they can each be customised with a number of options available. This includes the size, fabric colour and more. You can find out about additional options on the individual item pages. As is standard with all of the products that we manufacture, there is a manufacturer's guarantee provided as a seal of approval.
We manufacture two varieties of pinnable partition screens; the Budget and Omega ranges . You can find out further information about the products on their respective item pages, where there are details about some of the options available. If you require further assistance, then you can get in touch with our team of advisors by calling 01733 394941 or by sending an e-mail to [email protected].